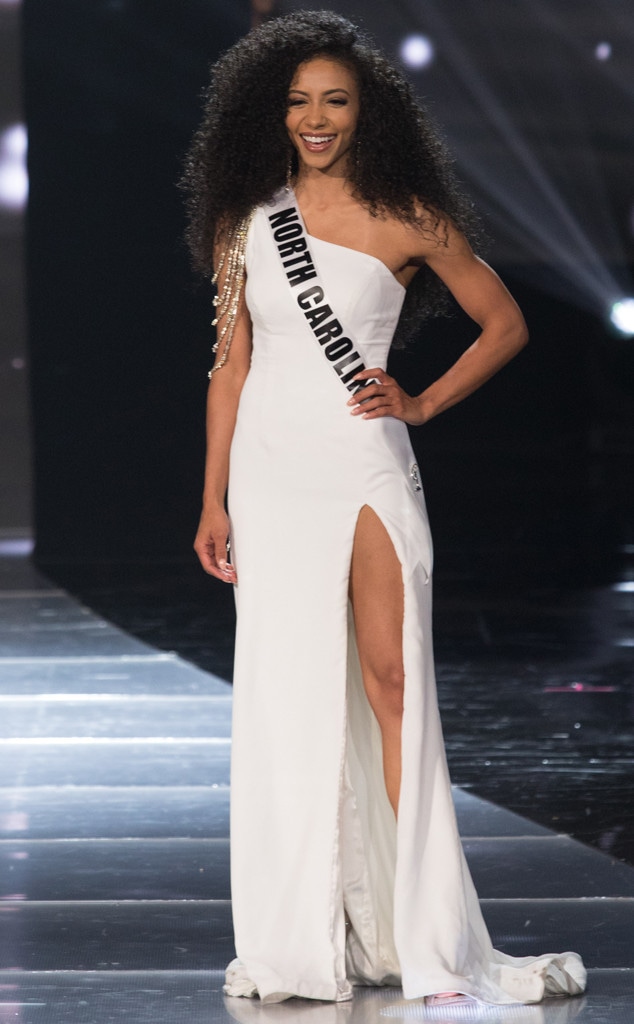 Alex Mertz/HO/The Miss Universe Organization
Ladies and gentlemen, it's time to meet your new Miss USA.
Earlier tonight, Nick Lachey and Vanessa Lachey hosted the annual beauty pageant live from the Grand Sierra Resort and Casino in Reno, Nevada. 
While there were more than a few qualified ladies who were deserving of the crown, there could only be one winner.
Ultimately, Cheslie Kryst, who represented North Carolina, wowed the judges with her brains, beauty and talents, earning her the top score and title of Miss USA 2019. From her impeccable white gown to her perfectly answered questions, she's taking home the coveted crown.
For those who missed out on the show or simply want to learn more about the deserving contestant, we've got you covered. We scoured the web and found more than a few fun facts about Miss USA 2019, who also made history as the oldest contestant to ever win!
Get to know our girl, below as she embarks on this chapter and takes on her brand-new role.
Education Is Important:
The 28-year-old beauty queen is one smart cookie! She earned both her law degree and MBA from Wake Forest University. For her Bachelor's degree, she graduated cum laude from the Honors College at the University of South Carolina.
Hard at Work: 
Kryst is a full-time attorney and she's licensed to practice law in two states, South Carolina and North Carolina. "On September 28, 2017, I was sworn in to the North Carolina Bar," she captioned a past Instagram post. "It was one of the proudest moments of my life. This morning I had the privilege of being sworn in to the South Carolina Bar. Praise God for helping me to remain undefeated on the bar exam!!"
The 28-year-old is also a civil litigation attorney at Poyner Spruill. She represents business in lawsuit, primarily as a defense attorney. Additionally, one of her clients is Miss America 2019, Nia Franklin. The two met in 2015 while doing pageants.
Fashion Is the Name of Her Game:
Cheslie is the founder of "White Collar Glam," a lifestyle blog that shares workwear fashion for women. Of her venture, she told the NC Bar Blog why she decided to create the platform. "When you look good, you feel good, and you perform well," she said. "That's not to say that putting on a nice suit for work, by itself, is going to turn you into a great attorney, but there's something to be said for the effect your clothing has on your self-image, the effect it has [on] how others perceive you, and the quality of work you produce because of it."
She continued, "Blogging about fashion in the workplace is impor­tant to me because I want women to be armed for the workplace in clothing that will put us in the best possible position to achieve success."
On top of her blogging duties, she is also a volunteer for the Dress for Success organization and she sits on the Board of Directors at Big Brothers Big Sisters Central Carolinas.
Star Athlete:
The pageant queen is a former Division I athlete. She competed in the heptathlon, long jump and triple jump (!!!) on South Carolina's track and field team. Moreover, she's in the top 10 in the record books at South Carolina for the triple jump, according to her blog. As if that weren't impressive enough, Cheslie wakes up before 5 a.m. every day to work out. she takes a spin class two times a week and also does yoga two times a week.
Born to Be a Queen:
Kryst won her first pageant in the 9th-grade as Miss Freshman at Rock Hill's Northwestern High School. In addition to her 9th-grade win, she competed four times to earn the titles of Miss North Carolina and Miss North Carolina USA (she competed for both the Miss USA and Miss America system). It wasn't until November that she took home the crown as Miss North Carolina, and now, she's earned the title of all titles: Miss USA 2019.
In fact, she told the Charlotte Observer that if she won the Miss USA competition, she would put her law career on hold and move to New York City.
Congrats to Cheslie on her big win tonight!