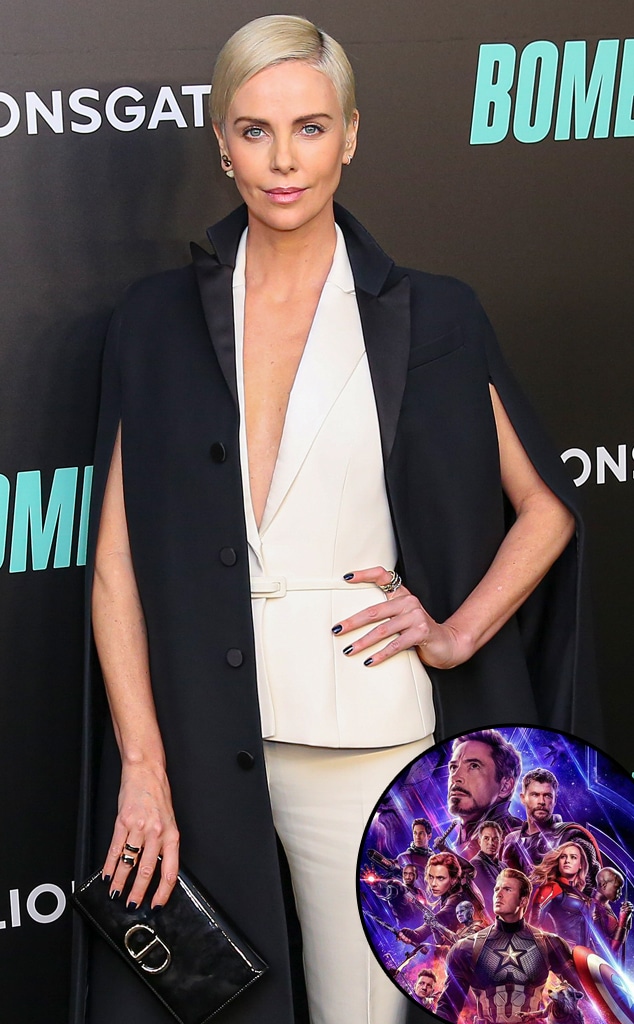 KENA BETANCUR/AFP via Getty Images, Marvel
What do Bombshell and the Marvel Cinematic Universe have in common? Just ask Charlize Theron!
On Wednesday, she stopped by The Late Show to talk about the movie, which tells the story of the downfall of FOX News mogul Roger Ailes. Because the scandal took place in 2016 before the #MeToo Movement and creation of the Time's Up Foundation, Charlize considered it to be somewhat of an origin story—something she joked MCU fans can all get behind.
"I sometimes refer to it as an origin story," she told host Stephen Colbert. "You know, hopefully Marvel folks will just go to see it because they hear 'origin story.'"
All kidding aside, the Oscar winner explained that it's place in the timeline of sexual harassment reform is what made her want to tell the story. "I think we forget, now that we've just lived in this time for the last two years that, when Gretchen Carlson stepped forward with this lawsuit at FOX against Roger Ailes, there really was no movement," Charlize said. "There was no Time's Up, there was no #MeToo. This was before Harvey Weinstein, before all of the numerous stories that we know now."
"But I do think it is, in a weird way, it is the kind of—they were the catalyst," she continued. "They brought us to this place. I think the women of FOX and everything that happened there just lent itself to such great storytelling because they were such an unusual cast of women to bring forward such an important story…And yet, here they are, they're the ones that kind of catapulted us into this moment where we're having a serious conversation about the nuance and the gray of sexual harassment."
One of those women was Megyn Kelly, who Charlize portrays in the film. Still on the topic of the movie, Stephen was curious to know how the Atomic Blonde star was able to master the journalist's mannered way of speaking. According to Charlize, it was hard because she considers herself to be a "lazy speaker."
"[She has] a very specific way of speaking," she began. "I have a husky voice tonight because I'm a little under the weather, but it was definitely quite a register to try and get. And she also has a very particular cadence. And, I don't know if you've noticed this about her, but she can speak really fast—it's incredibly impressive when you really pay attention to it."
Clearly, all of her hard work paid off. Charlize's performance has earned her a 2020 Golden Globes nomination for Best Actress in a Motion Picture – Drama. She and the Bombshell cast also picked up a 2020 SAG Awards nomination, which she was clearly very excited about in the NSFW reaction video she posted earlier this month.
Watch:
Charlize Theron Talks Megyn Kelly, Hand Injury & More
After finding out that the Bombshell cast was recognized by SAG-AFTRA, she took to Instagram to celebrate from her bed—and she quickly realized going commando under her robe wasn't the best idea.
Addressing the viral moment with Stephen, she quipped, "Note to self: Don't shoot anything before you put underwear on. My mother always told me that."
She added, "The cast nomination that we got—SAG cast nomination—was really special to me because this is such an ensemble cast. It's an extraordinary ensemble, so that one was really special."
Bombshell hits theaters December 13.