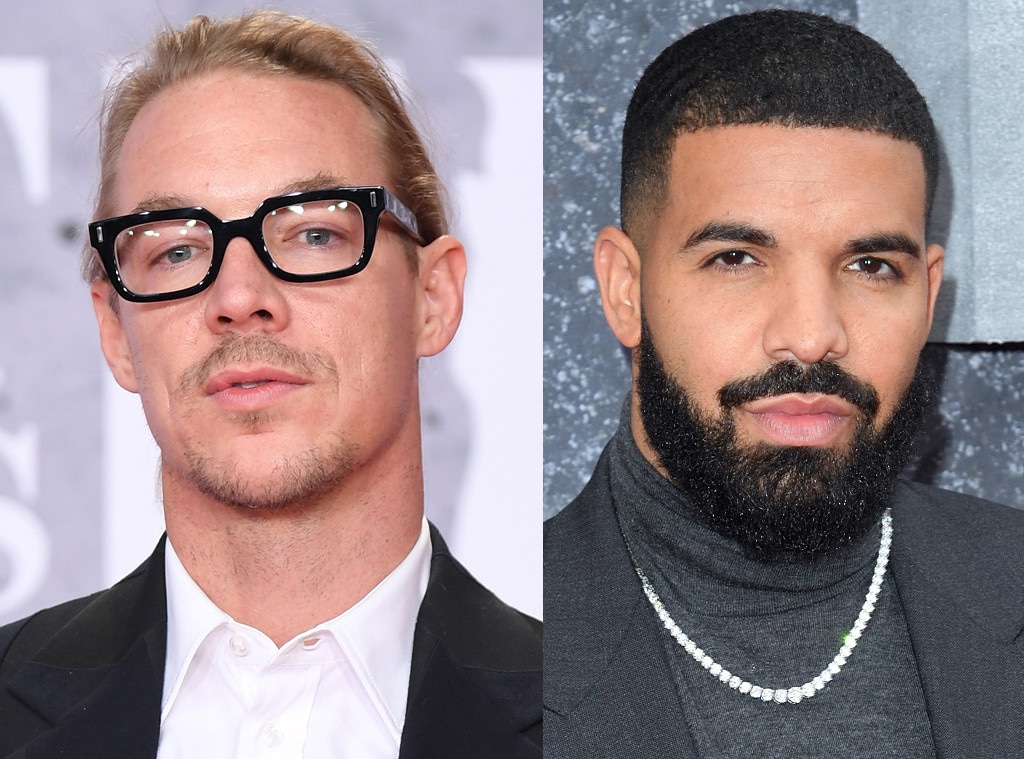 Karwai Tang/WireImage, Karwai Tang/WireImage
According to Diplo, God's plan does not include a friendship with Drake. 
Though the duo have previously worked together—"I'm always down for Drake," the DJ has raved—it seems like the rapper is very much over their friendship. At least, that's according to Diplo. In a new interview with The Cut, the music producer admitted that Drake "for sure hates" him. The evidence: The "In My Feelings" singer recently unfollowed Diplo on both Instagram and Twitter. And as for why? Well, that's still up for debate. 
After enlisting his team to investigate the situation, he uncovered what he believes to be the feud's starting point: a since-deleted tweet about Drake's 2-year-old son Adonis jokingly joining the boy band Brockhampton. "I can't remember exactly what it was," Diplo told the outlet. "But it was super funny."
Now, he'd like to publicly apologize for his wrongdoing (whatever that may be) and welcome Drake to his inner circle: "Come back, dude! I miss us! I miss us!"
Alas, this wouldn't be the first time Diplo butt heads with a fellow a-lister. Back in 2014, he caused bad blood with Taylor Swift after suggesting someone make a kickstarter to "get Taylor Swift a booty." (Naturally, a fan took him up on that and he gladly promoted the campaign.) Then, there's Lorde, who defended her best friend and called out Diplo and his "tiny penis." Yikes. 
Up next is Zedd, whose album Diplo hailed a pile of poop. (At least, that's what the emoji said!) And that's just the beginning of their ongoing drama.
"I'm actually not enemies with Zedd by any means," he shared in a 2015 interview. "I just think that he came from such a cool place and now he's been pegged as a money-maker for a major label to do EDM, which to me isn't even a genre." 
Watch:
Kanye West Reignites Feud With Drake Over Kim Kardashian's IG
"But they pegged him for that," he continued. "They've marketed him, even the fake relationship with Selena Gomez, all the things to sell records took away from the music."
As you can tell by now, the list of frenemies goes on and on.
However, one person he hasn't seemed to piss off is Joe Jonas. Yes, despite ruining Joe's Las Vegas wedding to Sophie Turner with his livestream, the duo are tighter than ever. In fact, when The Cut asked about the singer, Diplo couldn't help but call Joe his "soul mate."
And we're a sucker for a good bromance!