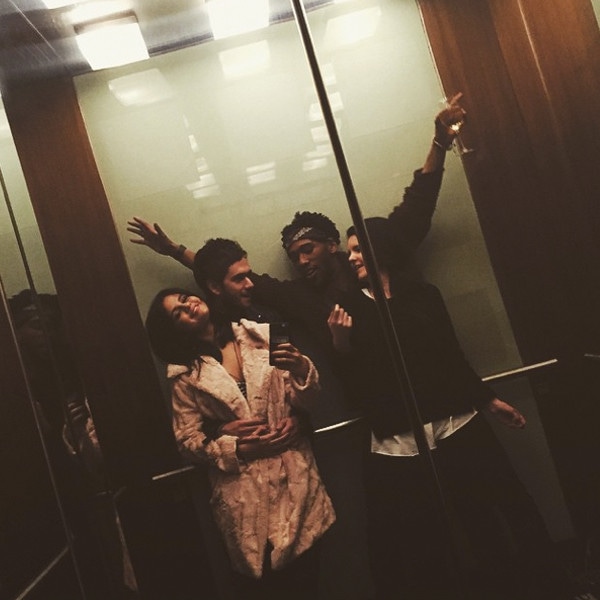 Instagram
Selena Gomez, are you sure you're just friends with Zedd?
As romance rumors continue to surround the Hollywood twosome, both musicians stepped out Friday night for a casual dinner in Atlanta .
For the second time this week, "The Heart Wants What It Wants" singer visited STK Steakhouse after working on her new film The Revised Fundamentals of Caregiving.
During this visit, however, Gomez brought a few familiar faces including Zac Efron and most importantly, Zedd.
"Selena and Zedd were definitely cozy and cuddling in the booth," a source told E! News after the meal. "They walked out together." 
Some of Gomez's backup dancers as well as a blonde who looked like Efron's girlfriend Sami Miró were also in attendance. The group chowed down on Shellfish Platters, Scallops and Fish and even some donuts for dessert.
Gomez and Zedd's night out comes as fans continue to speculate about the twosome's friendship. While multiple sources confirmed to E! News earlier this month that the pair was just working on new music together, recent Instagrams have followers speculating that this could be something more. 
On Saturday afternoon, Gomez posted a photo of Zedd wrapping his arms around her with the caption, "Hint #2 #iwantyoutoknow."
In addition, the EDM DJ recently posted a shot of Gomez wearing what appears to be a semi-sheer bra while lying in bed. The image was taken from the pair's recent video chat and included the caption, "Oh hi derrling..." Hmmm.
As curiosity grows about their official relationship status, at least fans can count on some great music coming out of this friendship.
After all, Zedd is one of the genius minds behind huge hits including Ariana Grande's "Break Free" and Justin Bieber's "Beauty and a Beat."
—Additional reporting by Beth Sobol