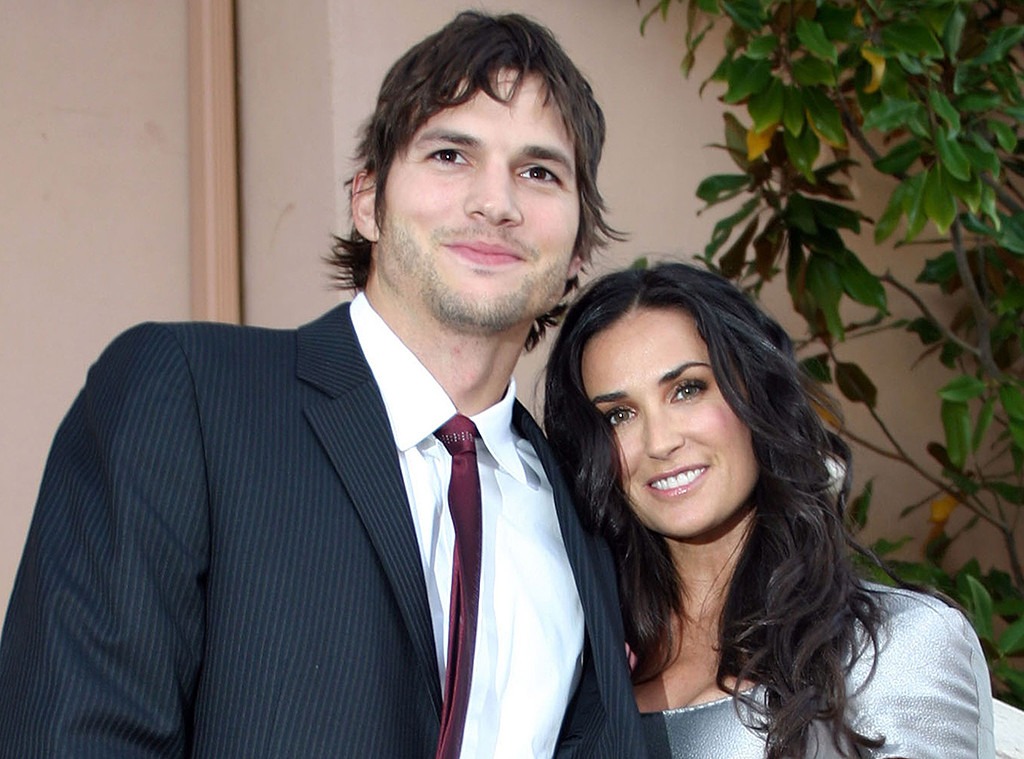 Shutterstock
Demi Moore's daughters Tallulah Willis and Rumer Willis are reflecting on the troubling days of their mom's relapse, amid her marriage to Ashton Kutcher.
The Ghost actress started dating that the That '70s Show star in 2003, when her youngest daughter Tallulah was only 9 years old. For most of Demi's adult life, she had been sober, but as she recently revealed in her new memoir, Inside Out, she starting drinking again during her relationship with Ashton. Now, on a new episode of Red Table Talk, Demi's daughters are opening up about how the relationship, and Demi's relapse, impacted their lives.
When asked why they went three years without speaking to their mom, Tallulah, now 25, shared with Jada Pinkett Smith, Willow Smith and Adrienne Banfield-Jones, "What happened was, she relapsed when I was 9, and nobody in our family spoke about it. And I had no idea what was going on, she had been sober my entire childhood, and then she drank."
Tallulah explains that at this time she just "knew that I was scared."
"Then there was sort of many years of saying she was sober and she wasn't and we couldn't trust it," Tallulah goes on to share. "All of the adults around us, in an effort to protect us, were protecting her. And so, if she wasn't sober, they would tell us she was, so there was a complete lack of trust."
Jada then asks Demi, "Were you with Ashton then, when she was 9 years old? And that's when the relapse happened."
"Yes," Demi replies. "How it broke down...I opened that door to drinking after almost 20 years."
Demi goes on to talk about suffering a miscarriage during her relationship with Ashton.
"I ended up pregnant, and then I lost the baby at almost six months," Demi says. "And so, when I couldn't get pregnant again, the guilt that I felt...that it was clearly my fault, was just enormous."
Demi, 56, shares that the "mental" or "emotional pull" to drinking was that she wanted to be "that girl" for Ashton.
"I made my own story up, that he wanted somebody that he could have wine with and do stuff," Demi says. "He's not the cause of why I opened that door. I wanted to be something other than who I am. It was literally like giving my power away."
Hearing this, Rumer explains to her mom, "So much of that time, especially with Ashton, I was so angry because I felt like something that was mine had been taken away."
"And I think also, when she wanted to have another baby, and it wasn't happening and there was so much focus on that, it was like, oh well we're not enough?" Rumer says. "Part of the reason I moved out of the house was, I think after you had a miscarriage I literally was just like, why are you so desperate to have another kid? And I couldn't stand the idea."
Rumer, 31, shares that she realized she was "so insensitive" after seeing photos of her mom's baby bump before her miscarriage. Speaking more about her anger during this time period, Rumer explains, "It wasn't just the addiction or drinking again."
"The addiction in the co-dependency, like my addiction to Ashton, and that was probably almost devastating, because it took me seriously away emotionally," Demi says, which Rumer and Tallulah agree with.
"Watching the behavior with Ashton and those years, because everyone left the house and it was just me living there, and I felt very forgotten," Tallulah shares, adding that she developed and "nurtured" the narrative that her mom didn't "love" her. "I know that she does, one hundred percent, but in that moment you're hurt, and you can't fathom that someone that loves you would do that to you, and would choose others more than you."
Demi also shares daughter Scout Willis, 28, with ex Bruce Willis.
You can see more of Demi's conversation with her daughters, including how her addiction impacted their relationship with alcohol, in the Red Table Talk video above.