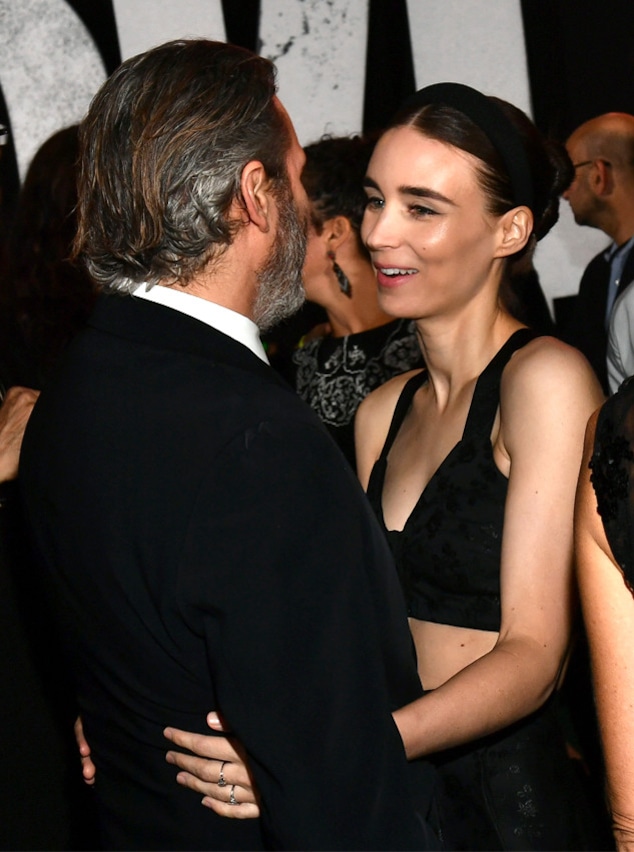 Michael Buckner/Variety/Shutterstock
Celebrities get mixed signals just like the rest of us. 
Take Joaquin Phoenix and Rooney Mara, who live together and sparked engagement speculation in the spring when Mara was spotted with a diamond ring on that finger. Though the pair has been romantically linked since 2017, they have kept their romance largely to themselves save for the occasional joint red carpet appearance. 
However, in a newly published interview with Vanity Fair for the November issue, the Joker star briefly opened up about his romance with the two-time Oscar nominee and his former co-star. As fans may recall, the two stars worked together in the 2013 sci-fi romance, Her, and then reunited in the 2018 drama, Mary Magdalene. 
By the release of the latter, they were already an item, having made their red carpet debut and confirmed to be living together. 
However, back when they were making Spike Jonze's Oscar-nominated film, it sounds like romance was initially the furthest possibility for these two. According to Vanity Fair, Phoenix thought the actress despised him.
Fortunately, he "later learned she was just shy and actually liked him too," the magazine reported. 
Ethan James Green/Vanity Fair
Making their story even cuter, Phoenix shared with VF, "She's the only girl I ever looked up on the internet...We were just friends, email friends. I'd never done that. Never looked up a girl online."
About six years later, the actor is happy about his life—with Mara very much in it. 
"I've always had a hard time," he told Vanity Fair of his work as an actor. "And, I think only recently, as you get older or whatever, you're okay. You go, 'Maybe it is going to be a bad experience' or 'Maybe I'm not going to enjoy it. And maybe I won't have any of those connections, maybe I'll feel just hollow afterwards.' That's okay. Because I know that I have meaning in other parts of my life. And that's really what sustains me. I enjoy it. I love my life. I f!$king love my life."