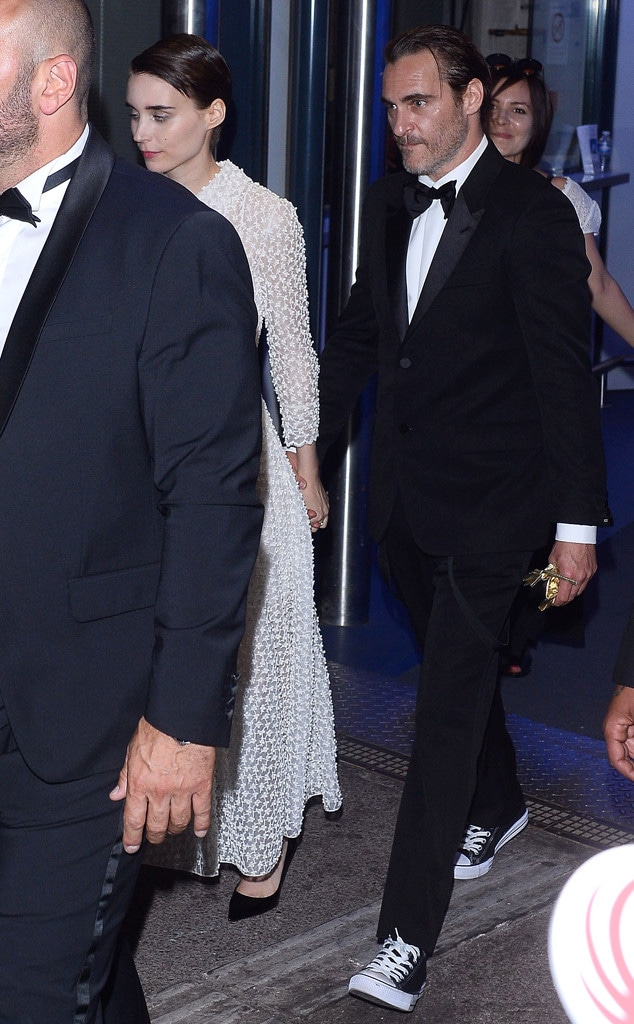 Splash News
Rooney Mara and Joaquin Phoenix have may not officially made it public whether or not they're in a romantic relationship, but the two definitely went public (literally), attending the 70th Annual Cannes Film Festival's Closing Night ceremony together over the weekend. 
The two casually and cooly made their awards-show debut at the film fest's closing night. While they may have been with the who's who of film—the two looked like they only had eyes for each other.
The two were seen embracing, touching each other lightly and holding hands throughout the evening. Rooney, who wore a white gown and had her hair slicked back, was at Joaquin, who opted for a tuxedo paired with Converse, also left in the same car as the 42-year-old actor.
Joaquin looks like he may be lucky in love, but he was definitely lucky during the awards show in France. The actor was awarded the Best Actor award for his role in Lynne Ramsay's thriller "You Were Never Really Here." In the film, the Walk the Line actor plays a tormented war veteran who attempts to save a teenage girl from a sex trafficking ring.
As for his choice of footwear, the actor apologized for his casual appearance, saying the award was "totally unexpected"—and that his leather shoes had been flown ahead of him.
Perhaps Rooney's a good luck charm?
The two, who starred in the film Mary Magdalene, set rumors ablaze they were photographed inside an SUV while leaving the We Care Detox Spa and Spiritual Retreat in Desert Hot Springs, California in January.
Mara and Phoenix also both starred in the 2013 film Her.
E! News has reached out to both Rooney and Joaquin's reps.