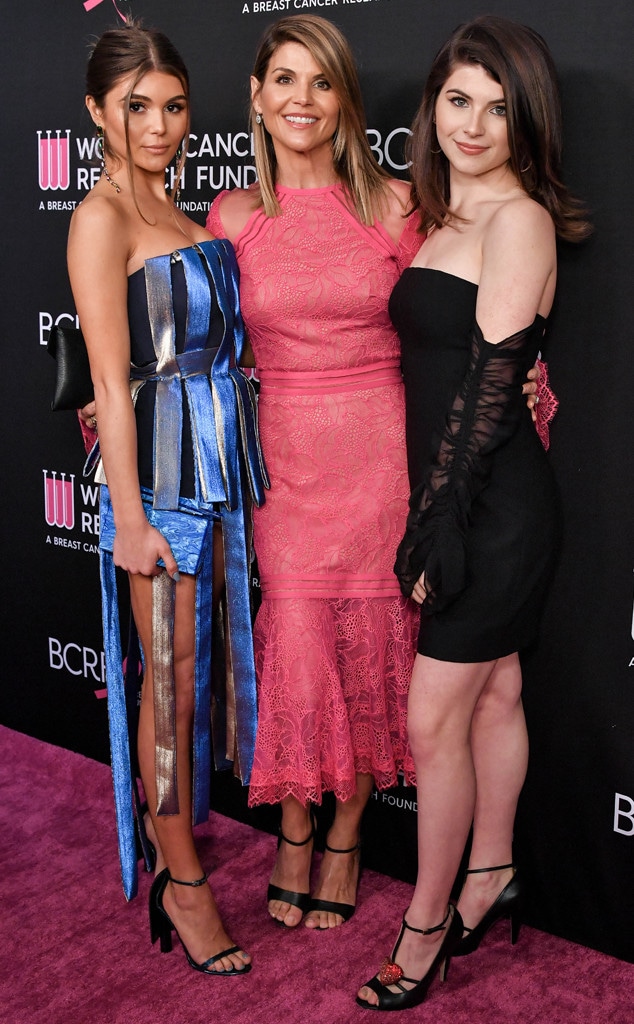 Rob Latour/Shutterstock
Olivia Jade turns 20 today but she's still absent from social media amid the ongoing college admissions scandal. 
Lori Loughlin and her family have a lot of birthdays to celebrate this month. Her oldest daughter Isabella "Bella" Giannulli turned 21-years-old earlier this month, and today, the Fuller House actress' youngest daughter turns 20. However, amid the ongoing college admissions scandal, Jade still seems to be keeping a low profile on social media but that didn't stop her big sis from wishing her a happy birthday on Instagram. 
Earlier today, Bella shared a throwback photo of Olivia Jade on her Instagram of the two as children. "Happy birthday baby girl, I love you," Bella captioned her photo. She also shared a video of Olivia Jade jamming out and dancing to rock music. 
Bella also tagged her sister on the Instagram post despite Olivia Jade being inactive on the platform since July when she broke her social media hiatus to wish her mother a happy birthday. 
Olivia Jade's 20th birthday comes after Felicity Huffman, who was also embroiled in the college admissions scandal, was sentenced to 14 days in prison on September 13. Huffman was also sentenced to a supervised release for one year, 250 hours of community service and a $30,000 fine for mail fraud and honest services mail fraud. She's the first parent among the more than 40 involved in the college admissions scandal to be sentenced in an alleged $25 million scheme to help their children into elite universities.  
Full House co-star John Stamos recently opened up about Aunt Becky's college admissions scandal involvement saying he's "gotta be careful." 
"I want to wait until the trial happens if it does, or whatever the result is, and then talk about it," the actor told GQ in an interview. Stamos also added that despite "whatever happened... I'm pretty sure that the punishment is not equal to the crime, if there was a crime." 
Watch:
Lori Loughlin Reportedly "Freaking Out" Over Possible Jail Time
Both Loughlin and husband Mossimo Giannulli have pleaded not guilty to one count of conspiracy to commit mail and wire fraud and honest services mail and wire fraud and one count of conspiracy to commit money laundering. 
It's been six months since the actress and her husband were arrested in March of this year in connection to the alleged nationwide college exam cheating scandal—also known as Operation Varsity Blues—and indicted. The indictment alleged that the two had "agreed to pay bribes totaling $500,000 in exchange for having their two daughters designated as recruits to the USC crew team" despite the fact that they did not participate in crew. 
Olivia Jade and Bella's parent have since rejected a plea that would've required both to spend two years in prison and were hit with a new charge of conspiracy to commit money laundering which could mean facing up to 40 years in jail.