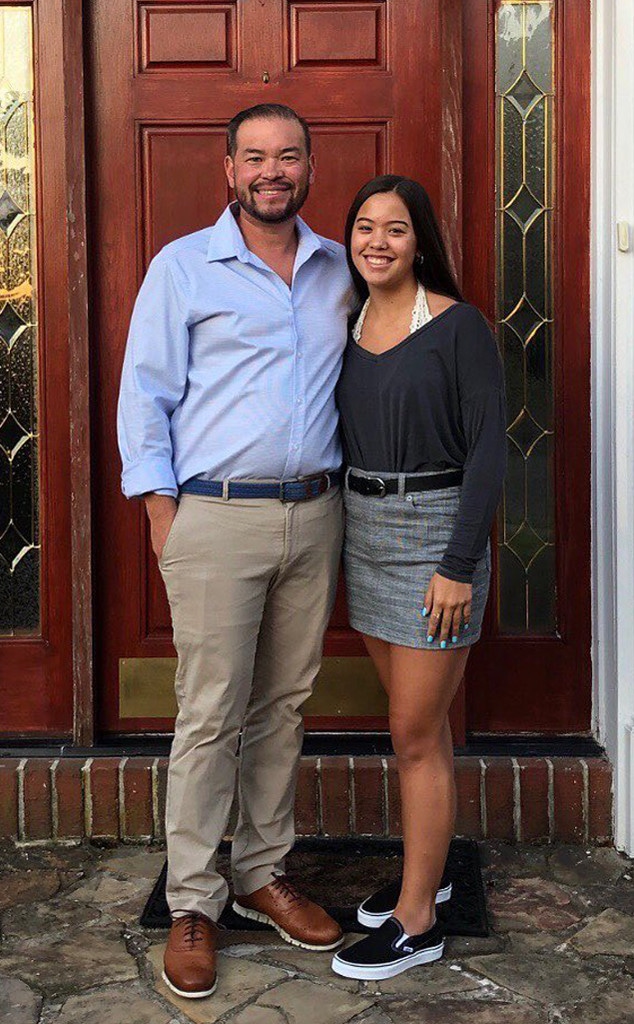 Instagram/Jon Gosselin
They grow up so quickly, don't they?
On Monday morning, Jon Gosselin celebrated son Collin Gosselin and daughter Hannah Gosselin's first day of school by sharing snaps of his kids posing on the front steps of their home. For the big day, Hannah chose a denim skirt, gray top and sneakers while Collin looked casual in a black tee and jeans. Honestly though, we just can't get over how grown up they are.
"FRESHMAN!!! 9th Grade Wow!!!" the Jon & Kate Plus 8 alum captioned his Instagram post. "I can't believe it!!! Good luck to Hannah and Collin this year!!! Today is their first day of high school!!!! I hope all my kids have a wonderful year in high school this year and have great experiences!!! Love all of you!!!"
If you're wondering where the remaining sextuplet siblings are, well, they live with mom Kate Gosselin. As for twins Mady Gosselin and Cara Gosselin, they're now off to college. Last year, Jon was awarded temporary sole legal and physical custody of Collin while Hannah permanently lives with her dad.
"Hannah is excited that her brother is coming home," Jon told E! News at the time. "The other four [sextuplets] aren't talking to me, but they're talking to Hannah. It's what the kids want to do. If they don't want to talk to me, that's fine, as long as they keep up with their sibling connections."
Ever the proud dad, Jon often takes to social media to honors his kids' milestones. In May, he paid tribute to his sextuplets on their birthday with the sweetest message.
"Happy 15th Birthday Hannah, Collin, Alexis, Aaden, Joel and Leah!!!!" wrote to his 100,000 followers. "Wow I can't believe you are 15!!! Time is flying by!!! I love you all very much. I wish you the best day ever and I hope you enjoy your birthday celebrations today and this weekend!!! Love always, Dad."
And, this time last year, he sent Hannah off to school with another celebratory Instagram post. "I admire your bravery starting fresh!!!" he shared. "I Love you very much and we have worked really hard to get here. Dedication has really paid off."
Of course, he's not the only celeb parent gushing over his kids. Keep scrolling to see all the adorable back to school photos!