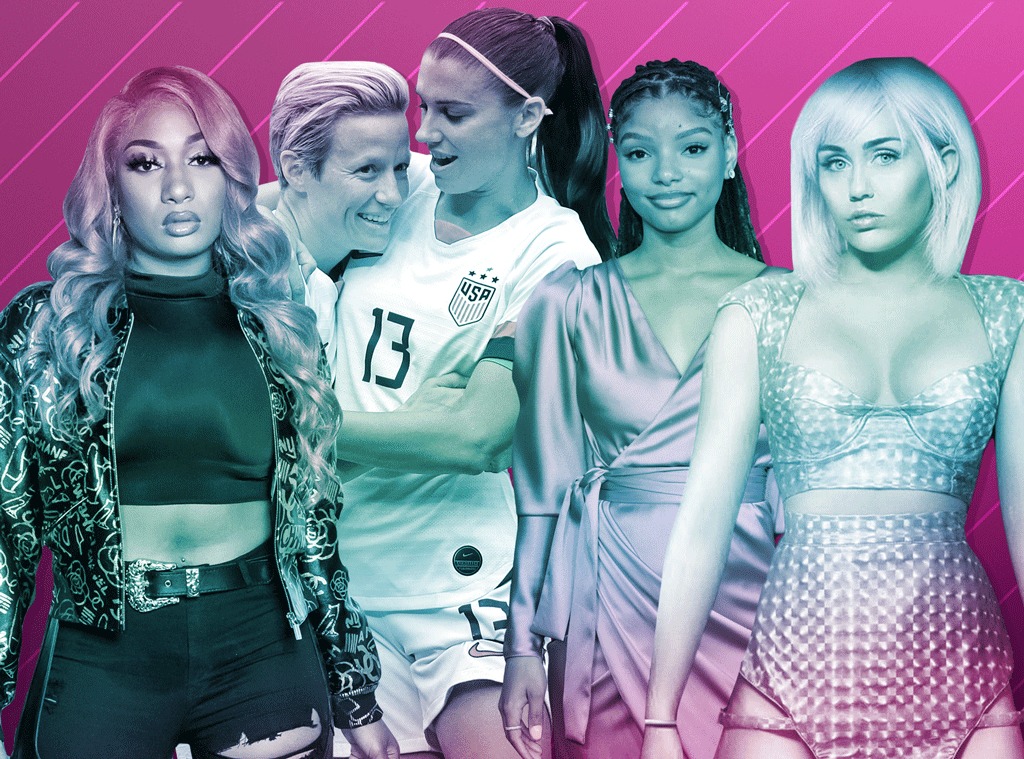 E! Illustration
WINNER: Goal! The U.S. Women's National Soccer team winning the World Cup was this round's victor!
________
Summer may be winding down but our Best of Summer tournament is only heating up!
It's time to vote for the final category in our annual showdown of which couples, musical artists, TV shows, movies and viral moments were the best of the season. Today's round is all about the viral summer moments that were so buzzworthy it was all people could talk about on your timeline.
In an era where news moves so fast that if you blink you could miss it, having staying power means you must be doing something right. So, we've rounded up which people or events were able to cut through the noise and keep people hyped, which is really the only energy we want during summer anyway.
From lighthearted challenges to exciting cast announcements, let's take a look back at what had social media abuzz.
If you opened Instagram at all in the past few months, you undoubtedly saw friends serving looks and living their best life with the caption #HotGirlSummer!
The catchphrase of the season is all thanks to Megan Thee Stallion, a Houston-born rapper who has been up-and-coming for quite some time and whose fans created the phrase based on her lyrics. 
What exactly is a hot girl summer, you may ask? In an interview with E!, the rapper explained, "Your actions make you a 'hot girl.' You have to be someone who is like energetic, the life of the party...just unapologetically you."
The phrase became so popular that Megan even released a song titled "Hot Girl Summer" featuring Nicki Minaj and Ty Dolla $ign.
One celebrity that has embraced Hot Girl Summer is none other than Miley Cyrus, who happens to also be nominated for a viral moment as well!
Everyone was freaking out when it was announced that the actress would be joining the critically acclaimed Black Mirror. Cyrus appeared in the episode "Rachel, Jack, and Ashley Too" as Ashley O, a fictional pop star who gave us some Hannah Montana vibes.
The artist dropped a full music video in character for her catchy bop "On a Roll" where she dons a pastel purple wig and white two-piece that is sure to be cosplayed for years to come.
That wasn't the only casting that got us excited this summer, either! Disney's live-action reboot slate has included finding a lead for its Little Mermaid film and it finally found one in Halle Bailey!
Bailey is a vocal powerhouse and is one half of the Chloe x Halle sister duo. While some trolls tried to hate on the casting news, most people on the Internet clapped back with support for Bailey, including celebrities like Yara Shahidi, Donald Glover and more. With a voice like hers, we can see why Ursula wants to steal it and can't wait to dive under the sea to see her performance when the movie comes out.
Our favorite celebrities banded together a few more times this summer, too. After all, an entire parade of them were featured in Taylor Swift's cameo-filled "You Need to Calm Down" music video!
We couldn't calm down when the video, which was co-directed by Swift herself, was jam-packed with stars like Ellen Degeneres, the Queer Eye fab five, RuPaul, Billy Porter and shockingly the singer's former rival Katy Perry. The song's message was all about love, from the pro-LGBTQIA+ support to Swift hugging it out with Perry, and seeing so many of our favorite A-listers together was a highlight of the season.
And if any celebrities felt left out of the music video, there was a new phenomenon to make up for it. Remember last year's "In My Feelings" challenge? Well, this year it was all about the bottle cap challenge!
Some of the biggest names in entertainment spent their summer filming slow-motion videos of how they could flick a cap off a water bottle without using their hands. 
John Mayer roundhouse kicked it, Kendall Jenner somehow used her foot while on a jet ski and Mariah Carey's high-pitched singing sent her cap flying right off. 
Of course, not everyone is that nimble. Blake Shelton, Ryan Reynolds and Lizzo were just a few of the A-listers whose attempts led to broken bottles or water flying through the air.
Either way, celebs challenging each other kept the wholesome fun going on all summer long (even if Snoop Dogg was NOT a fan).
Finally, our last nominee is for none other than the U.S. Women's National soccer team!
The fierce women brought the heat to the World Cup, defeating the Netherlands in a 2-0 victory. While this marks the fourth World Cup the U.S. team has brought home, this year there was an increased focus on the team as they demanded equal pay to the men's team (who, by the way, have yet to bring home a World Cup trophy).
After their victorious game, the team celebrated with giant parades and lots of partying! Their win helped to kick off everyone's summer in a great mood.
Which viral moment was your favorite of the summer? Vote below!
Be sure to return on Thursday as the winner from each category faces off for the ultimate title of Best of Summer!
2019 Best of Summer: Viral
Watch the 2019 People's Choice Awards Sunday, Nov. 10 at 9 p.m., only on E!