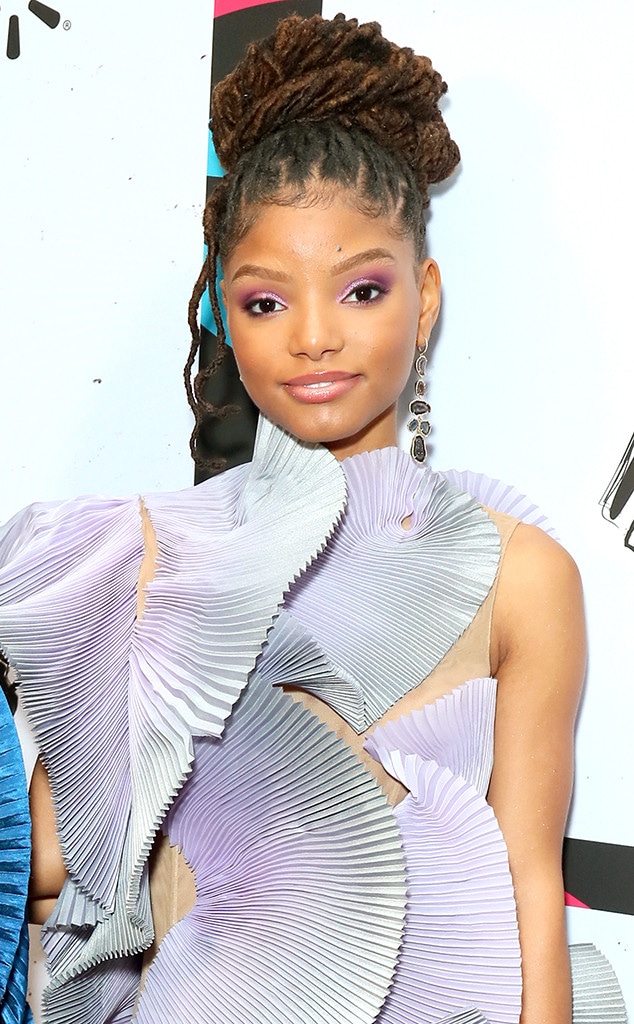 Leon Bennett/Getty Images for Essence
Halle Bailey is ready to go "Under the Sea."
The Chloe x Halle member is officially part of Disney's world because she's been tapped to play the coveted role of Ariel in the Little Mermaid live-action film. That's right, she's going to play the iconic Disney princess, which is being directed by Rob Marshall and produced by the 58-year-old, John DeLuca, Marc Platt and Lin-Manuel Miranda.
"After an extensive search, it was abundantly clear that Halle possesses that rare combination of spirit, heart, youth, innocence, and substance—plus a glorious singing voice—all intrinsic qualities necessary to play this iconic role," the director said in a press statement shared with E! News.
"dream come true...," the R&B duo shared on Twitter, alongside an animated photo of a re-imagined Ariel that looks like the brunette beauty.
Notably, Zendaya, who was rumored to play the Disney princess, congratulated the singer on Twitter. "Yeeeeessss!! Here for thiiiissss," she wrote.
However, Disney has been tight-lipped about the famous villain role. After the 48-year-old comedian made headlines for being attached to the project, Lizzo appeared heartbroken over the news.
She tweeted several sad faces about the announcement. Last year, the "Good as Hell" singer felt she was born to play the Disney villain. "I'M URSULA. PERIOD," she shared, alongside a video of her dressed as the Sea Witch and belting out the animated movie's tunes.
Despite her social media posts, the "Juice" singer praised  the R&B singer for being cast as the Disney princess and quote-tweeted the news with a celebratory emoji. In that same thread, a fan revealed she made a petition for Lizzo to star as the Sea With. "Omg," the 31-year-old beauty responded.
While nothing is set in stone, according to the studio's press release, "additional announcements regarding The Little Mermaid are expected in the coming weeks."
Along with the three actors attached to the project, one thing is for sure: the film will also feature beloved songs from the animated movie by Alan Menken and Howard Ashman. There will also be new songs by the two, with Miranda writing the lyrics and Menken working on the music aspect.
Production is set to begin in early 2020.