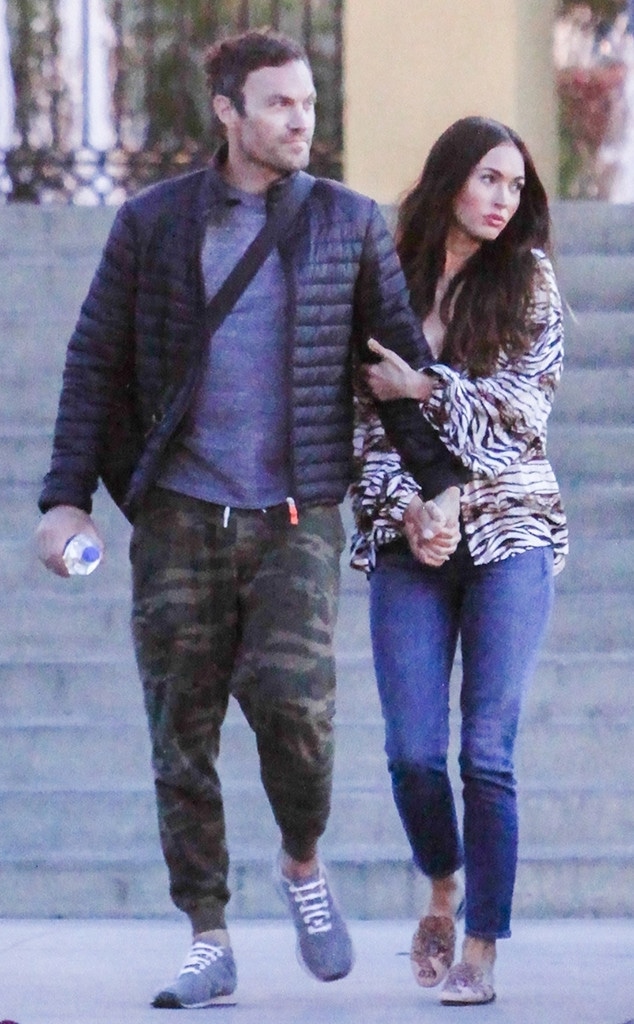 BACKGRID
It's safe to say that Brian Austin Green and Megan Fox got off to a rocky start. 
In fact, they almost didn't date at all. On Barstool Radio's KFC Radio, the actor admits that he nearly jeopardized their entire future together. "I had just gotten out of a relationship… and I wasn't looking for a relationship at the time," the BH90210 star shares.
But fate has a funny way of pushing people together. While working on an episode of Hope and Faith in New York city, alongside Kelly Ripa and Faith Ford, he met the fresh-faced actress. There seemed to be an instant attraction since the actor's first thoughts were, "This isn't this. This can't f--king happen. This isn't going to happen, no way."
Fortunately, the Transformers star wasn't going to let him get away that easily. He says that she was "really persistent" in those beginning days.
"It's funny, I kept pushing her away early on, because I was like, 'I don't want a relationship.'" The father-of-four explains, "And then she was like, 'Well cool, I'm going to go date.'"
And just like that, Austin realized that his feelings for Megan ran deeper than he originally thought. "I was like, 'Wait a second, I didn't say go date, please!' So then that's when I realized I was, like, 'F--k, I must be really into this situation, [because] the thought of that kills me.'"
Fifteen years have passed since Brian came to his senses, but not much has changed for the pair. Except for the fact that she soon became a mega star thanks to Transformers. 
"We had so much anonymity going around. She lived here and we would walk around on weekend. It was really easy and fun at that point," Brian says. Nowadays, these two cannot go anywhere without a string of photographers trailing them. 
The attention on the pair was at its peak in 2015, when Fox filed for divorce from Green. At the time, the actress cited "irreconcilable differences" as the cause for their split, but it soon became apparent that those differences were very much reconcilable, because Megan was pregnant with their third son just a year later. 
Megan has since filed to dismiss the divorce and a source previously told E! News, "Brian and Megan been working on themselves as individuals and things have gotten better between them as a couple."