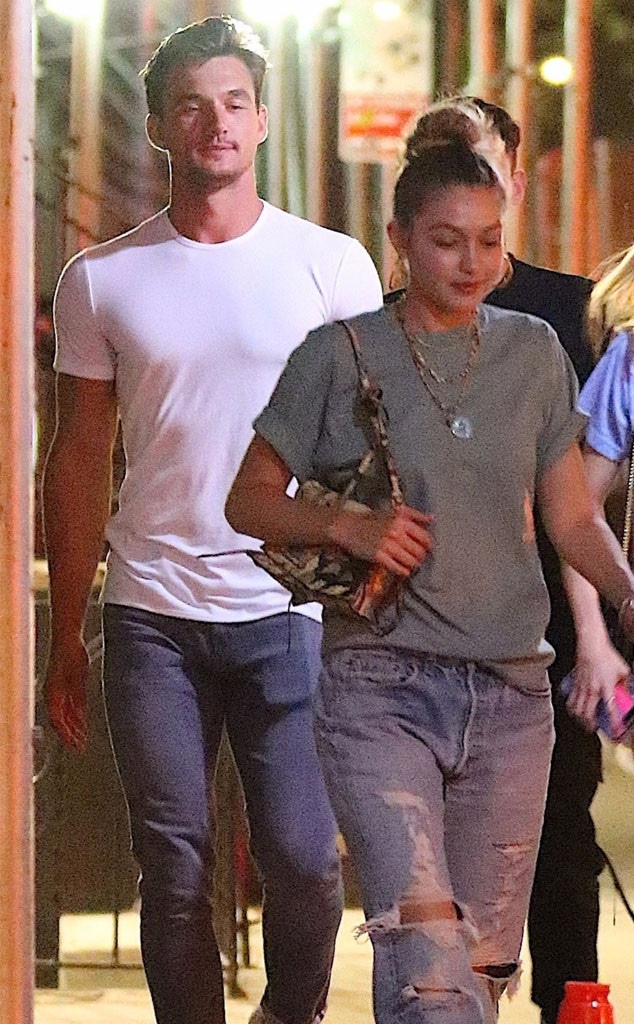 BlayzenPhotos / BACKGRID
Meeting the friends!
Gigi Hadid and Tyler Cameron's budding romance appears to be getting more serious. The Bachelorette alum and the supermodel, who have been sparking relationship rumors for weeks now, were spotted having a fun night out with her pals in New York City on Tuesday night. The celeb duo, who sported matching casual T-shirts for their evening out, spent time with her friends at Justin Theroux's new bar Ray's on the Lower East Side of Manhattan. 
"Gigi walked in first holding hands with her girlfriend. Behind her was Tyler and Gigi's friend Cully Smoller," an eyewitness tells E! News. "They all seemed to get on great. They walked in laughing together and talking loudly. They all had a great time and were very animated as they sat around laughing and talking."
"They stayed for almost two hours before leaving. Gigi and her girlfriend walked out first and Tyler was behind them," the eyewitness shares. "They walked for a little bit and then hailed a cab."
According to the insider, Tyler, 26, and Gigi, 24, were "playing it cool" and "didn't want to get too close."
"But he held the door of the cab as everyone got in," the eyewitness tells E! News. "They all went back to Gigi's apartment for the night."
Watch:
Watch Chris Harrison Learn About Tyler Cameron & Gigi Hadid
Earlier this month, Gigi and Tyler were spotted on their first date in NYC, shortly after the Bachelorette runner-up was photographed spending the night with Hannah Brown in Los Angeles. But, amid speculation about his relationship status with Hannah, Tyler has been spending more time with Gigi, and it appears that sparks are flying.
"There is a connection there for sure," a source tells E! News. "Gigi was smiling more last night than she has in a while. She just looks really happy and calm with Tyler around. It's like she is herself around him, no pretense or act."
Another insider tells E! News, "Tyler likes Gigi and definitely wants to keep seeing her. He wasn't sure if it would turn into something but they are having a lot of fun and don't want it to end, that's for sure."
"They are seeing each other a lot and texting all day long," the insider adds. "He's excited about her."
A source close to the supermodel also shares with E! News that Tyler and Gigi are "definitely seeing each other," but are "not serious."
"They are both very into each other but Gigi has been really hesitant about getting serious with him. She feels she just ended a long-term relationship and wants to strictly have fun right now," the insider says, referencing Gigi's relationship with Zayn Malik. "She really enjoys hanging out with Tyler and he has spent the night over her house multiple times now. Tyler makes Gigi laugh continuously while they are together, and it's been a while since someone has sparked her interest."
"They have a strong connection but are definitely just testing the waters right now," the source continues. "They both like to hang out with a few of their friends to make it seem more casual, but Tyler always ends up staying the night alone at Gigi's house. Tyler has not met Yolanda and hasn't been invited to any family gatherings just yet."
Jackson Lee / SplashNews.com
According a source close to Tyler, the reality star is "very into Gigi and wants to keep dating her."
"He is having a lot of fun and has been very persistent with the relationship," the insider tells E! News. "Tyler makes sure that they always have a plan to see each other next before he leaves her. He never really thought that they would actually hangout, but these have been the best couple of weeks of his life."
"Tyler and Gigi are definitely hooking up, but he is trying to play it cool because he really likes her," the insider shares. "Their friend groups have been meshing and everything has been very relaxed and easy between the two. It's going in the right direction and he hopes he can hang on to her for a while because they definitely vibe."