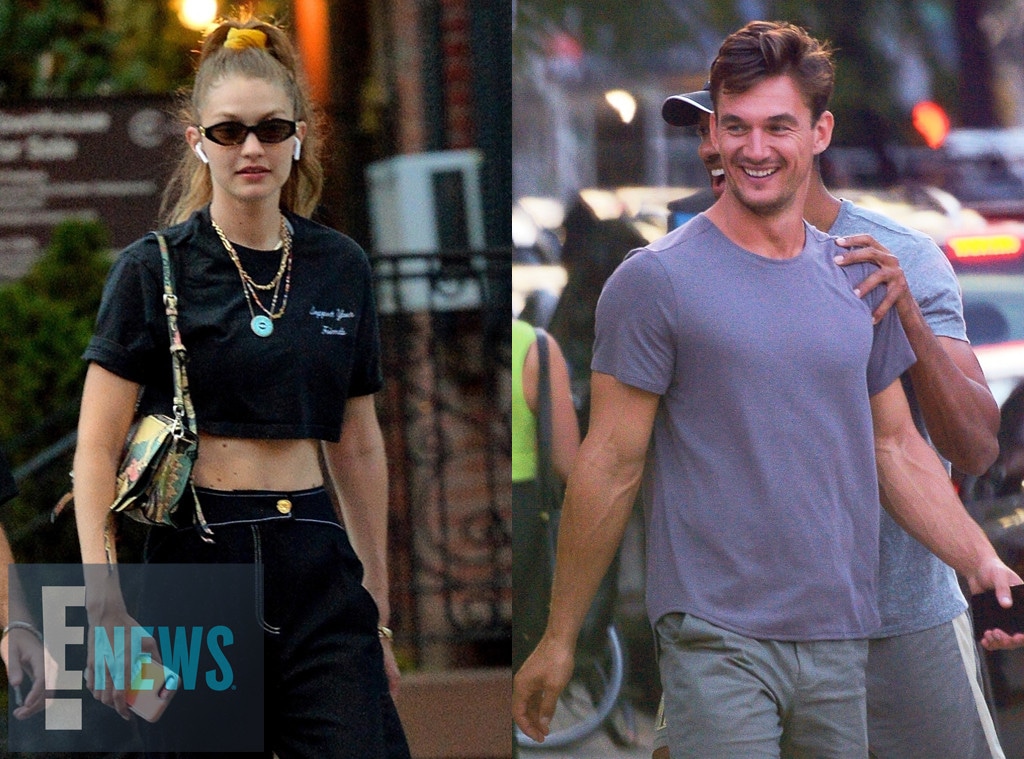 BACKGRID
Turns out, this journey is just getting started.
Bachelorette runner-up Tyler Cameron and Gigi Hadid are proving their (rose) budding romance is still going strong. In E! News exclusive photos, the duo are seen leaving her NYC apartment separately on Monday night.
Clad in casual shorts, a t-shirt and sneakers, Tyler, 26, headed out at around 6 p.m. and met up with his pal Matt James, an eyewitness shares. About 45 minutes later, the 24-year-old, wearing an all-black outfit, left the building and went to see friends in the Soho neighborhood. 
"Gigi looked good," explained the insider. "She was casual and seemed very chill. It seems like they are definitely spending more time together and growing close."
Indeed, the models—who first met on Instagram—haven't been shy about their connection. Just last week, they hung out at Brooklyn's Dumbo House before ending the evening back to her apartment.
"Gigi is definitely interested in Tyler," a source shared with E! News at the time. "They met for drinks and they got along really well. It was very casual but they were laughing and had a very engaged conversation. They are both taking things slow but have both made it clear they are interested in each other."
Make that very clear. After all, just 24 hours later, Gigi and Tyler, along with some of their friends, spent the evening bowling at Frames Bowling Lounge.
Of course, come the next morning, he was spotted making an exit from her apartment. Hours later, a "calm, cool and collected" Gigi left her home to do some window shopping, an eyewitness shared.
And though Tyler had recently spent the night at Hannah Brown's pad, it seems he's focused on the present.
"He really likes Gigi, but it's just a fling for now," an insider previously said. "They are both gorgeous and single and they've had fun spending time together. He's living in the moment and not thinking too much past that."
"He has every right to do whatever he wants because we were just, you know, hanging out, seeing where it goes," she sounded off on Rachel Lindsay and Ali Fedotowsky-Manno's Bachelor Happy Hour podcast. "It was a little confusing but, um, he can do whatever he wants to and I know that I can too. And I am going to continue going onward and upward and I just think that I've made it very clear...I have no shame in saying I had feelings. I totally did. I totally still have feelings but, at the same time, I am not tied to any man or tied to Tyler and I'm not going to be."
"And the thing is...we are not dating dating, at all, we hung out, but we also had conversations of both like knowing that there's still something there," she continued. "And when you are in the public eye, you do just have to be respectful of each other. Yeah, I wish I would've got a little bit more than two days. But, you know, it is OK."
In the wise words of Chris Harrison, the drama continues...