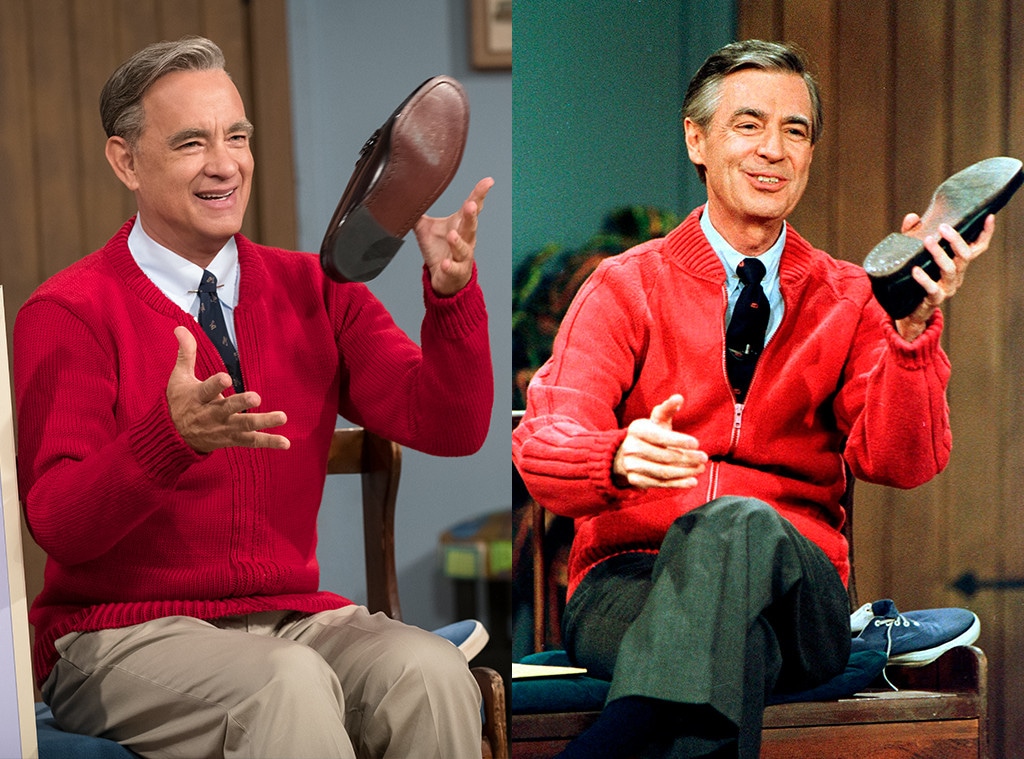 EPK, AP Photo/Gene J. Puskar
Allow Tom Hanks to be your neighbor.
On Monday morning, Sony released its first trailer for A Beautiful Day in the Neighborhood, which features the Oscar winning actor sliding into the loafers and red cardigan of everyone's childhood icon, Fred Rogers.
Based on a true story, the upcoming flick—guaranteed to make you cry—follows the unlikely friendship between Rogers and cynical journalist and new dad Lloyd Vogel, who accepts an assignment to profile the host for Esquire. Unsurprisingly, after time spent with the good-natured TV personality, Vogel (played by Matthew Rhys) finds himself ditching skepticism and embracing kindness.
"Sometimes, we have to ask for help and that's OK," Hanks muses in the two-minute clip. "I think the best thing we can do is to let people know that each one of them is precious."
Director Marielle Heller certainly understands the feel-good appeal of Rogers, who passed away in 2003 at the age of 74.
"He's a guide for how to slow yourself down and connect with what's true in your heart, your kindness, your patience, and your goodness," Heller recently told Entertainment Weekly. "Having his voice in my head for the past two years while I've been making this movie has made me a better parent."
"[He calls for] us to be our best selves, and I think that's required of parents in order to be patient and see these little people we're bringing into the world with compassion," she added. "I approached every decision with the movie as: 'How would Fred approach this? How can we treat everybody with a level of emotional empathy and compassion that shows that we value everyone?' That was his main message: Everyone is valued."
Rogers' hit children's show Mister Rogers' Neighborhood aired from 1968 to 2001 and won four Emmys. Last year, his life and legacy was examined in the documentary, Won't You Be My Neighbor?
Grab your tissues and watch the full trailer above! A Beautiful Day in the Neighborhood hits theaters on November 22.