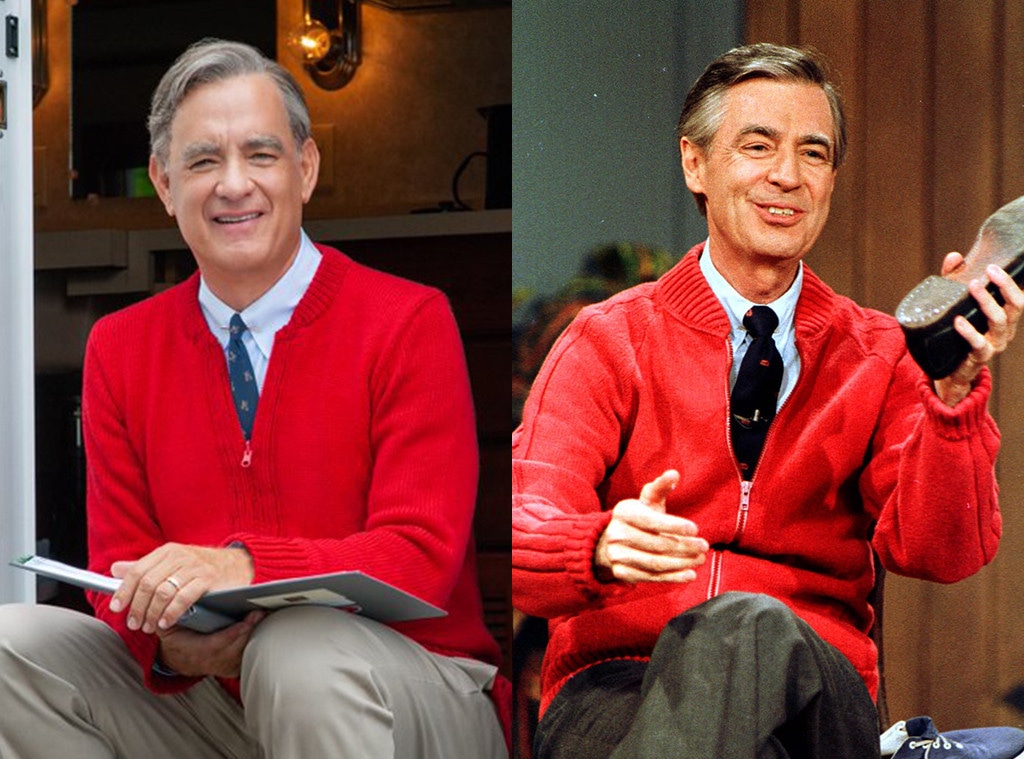 Shutterstock/Sony Pictures; AP Photo/Gene J. Puskar
Tom Hanks, won't you be our neighbor?
The 62-year-old Oscar-winning actor plays Fred Rogers, the late host of the long-running beloved children's series Mister Rogers' Neighborhood, in the upcoming Sony Pictures film You Are My Friend. On Thursday, the studio released the first photo from the movie, which shows Hanks sitting in the doorway of a trailer and holding an open book while sporting gray hair and a replica of the character's trademark zip-up red cardigan, worn over a white shirt and blue patterned tie and paired with khakis and blue and white tennis shoes.
The movie follows Rogers' relationship with jaded journalist Tom Junod, played by Matthew Rhys. In 1998, he begrudgingly accepted an assignment to write a profile of the star, one of the most famous faces in American TV history, for Esquire. After getting to know him, he finds that his perspective on life is transformed.
Mister Rogers' Neighboorhood aired between 1968 to 2001 and won four Emmys. The show was geared towards toddlers and preschool kids. It taught them about self-esteem, responsibility, tolerance and feelings. Rogers used a trolley to travel to the Neighborhood of Make-Believe, where he met up with puppet friends. He began an episode by singing, "It's a beautiful day in this neighborhood / A beautiful day for a neighbor / Would you be mine? Could you be mine?"
Rogers died at age 74 in 2003 after battling stomach cancer.
You Are My Friend is set for release in October 2019.