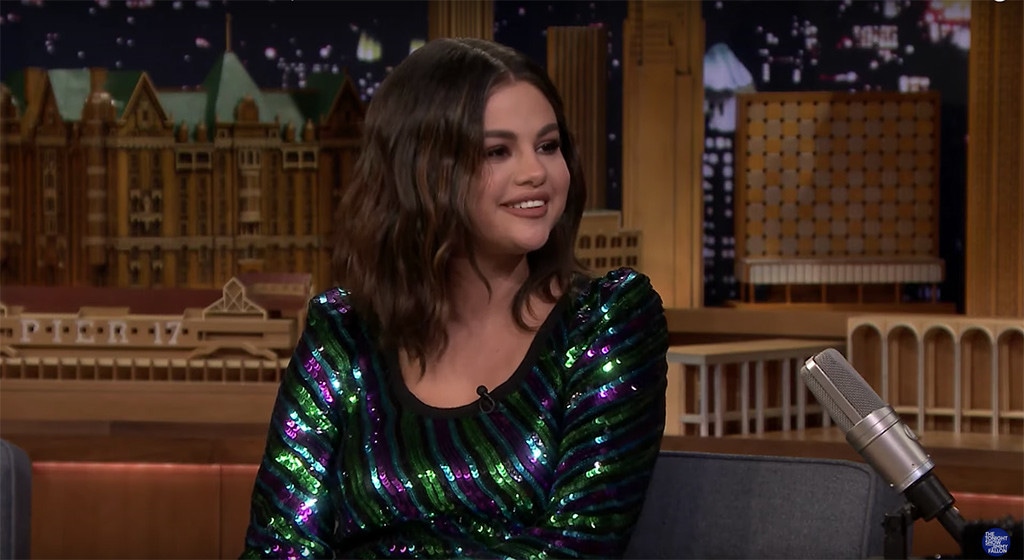 YouTube
The wait for Selena Gomez's new music is almost over!
The 26-year-old singer revealed she's "actually done" with her next album during Tuesday's episode of The Tonight Show.
"I have to do, like, a few finishing things with it, but I'm just relieved," she told Jimmy Fallon. "It took me four years now to even feel at a good place with this album, and it's just because I had such huge moments that happened in my life personally that [it was like] how was I going to capture that and how was I actually going to feel good about what I was saying? So, I kept going and I'm relieved now."
As for the genre of this next album, Gomez said "there's always going to be a sense of strong pop" in her music but that she "definitely explored" incorporating more electric guitar, acoustic guitar and soulful tracks.
"It all kind of hits different places that I feel like is my lane for music," she explained. "It's just live in that world and mellow."
Gomez has produced a number of chart-toppers over the years. From fun hits like "Come & Get It" to serious ballads like "The Heart Wants What It Wants," the artist has covered it all.
"I love everything that I get to do and be a part of," she said, "but specifically, something that connects with people on an emotional level is my favorite."
This wasn't the first time Gomez had teased her new music. Back in March, the "Wolves" artist revealed everything had been "going really good" in the studio but that she still had a few pre-release jitters.
"I'm just nervous about it, honestly, because I feel like the next few choices that I'm gonna make are very crucial," she said at the time. "So, I'm trying to be really, really diligent and just patient with everything."
Fans have been patiently waiting for this new era. While Gomez has released several collaborative songs since late 2018—including "Taki Taki," "Anxiety" and "I Can't Get Enough"—she hasn't dropped a full album since her 2015 hit Revival.
As Gomez noted, a lot has happened over the course of those four years. From undergoing a kidney transplant and focusing on her mental health to going through public breakups with The Weeknd and Justin Bieber and working on new films, the recording artist has experienced several ups and downs. 
While fans don't know which milestones her new music will touch on, they can't wait for it to arrive!
Watch the video to see Gomez's interview. 
(E! and NBC are both part of NBCUniversal).