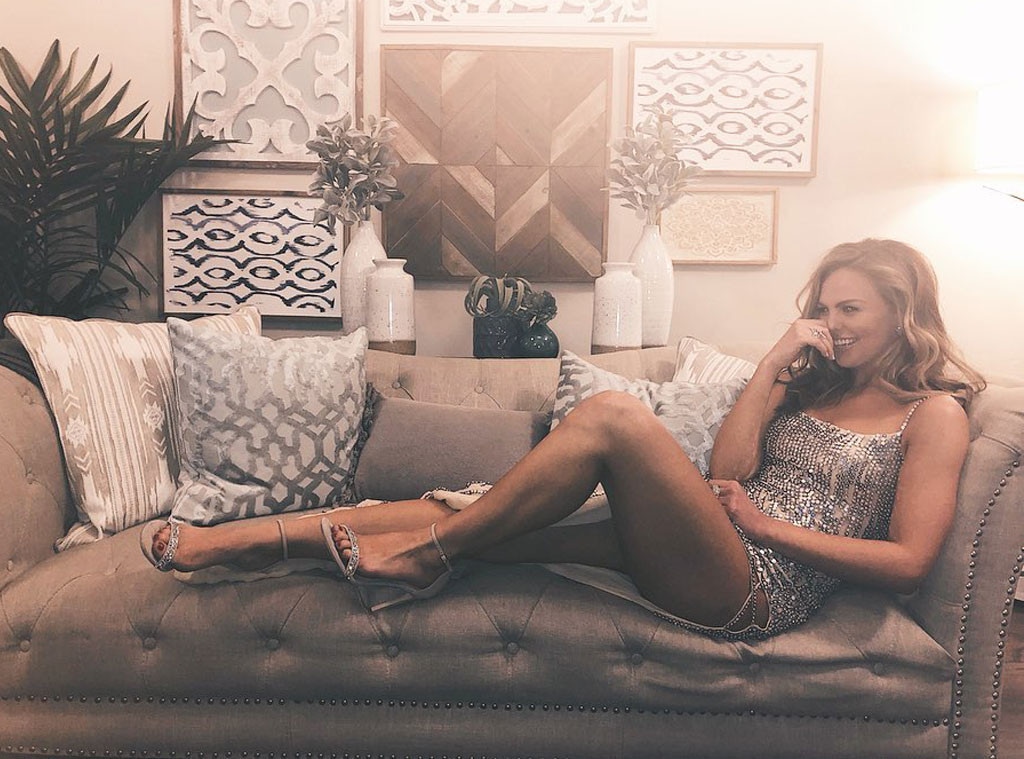 Instagram
There ain't no rest for the wicked or Hannah Beast.
Hannah Brown has wrapped up filming The Bachelorette, but for the rest of us, this rose-filled party is just getting started. The Alabama native posted on Instagram on Wednesday about the journey as a whole, which she called "something else." She shared photos from her first night standing in the well-walked driveway of Bachelor Mansion, where she met 30 suitors and a potential husband.
In typical Hannah form, she strikes a balance of the beautiful with the goofy. In one picture, she looks off into the distance coyly laughing at something. In the second, she's sprawled out on the couch looking more than ready for a Bachelor Nation-approved size glass of wine.
"Hi, my name is Hannah and I'm the Bachelorette. (Wow-what!?)," she wrote. "This experience has been something else. I am beyond grateful, but dang somebody should have warned me that dating 30 men ain't easy!"
She added, "I'm still recovering, but don't worry, the Beast is back y'all!"
It's safe to say that most people who watched the season premiere on Monday are also still recovering. The way she kicked Scott out of the house when he admitted he was dating someone?! Great. The moment she gave the first impression rose to Luke Parker, who says God appeared to him in the shower one time but it's okay because he's really good looking? Well, based on first impression rose history and statistics, his chances of staying long are pretty high.
From night one, Hannah has proven that she's doing The Bachelorette her own way, awkward stumbles included. We can look forward to more of those Hannah Beast moments throughout the season, too.
In the "this season of The Bachelorette" trailer, Hannah says at one point, "You don't own me. You don't get to decide what I can and can't do, because first of all you're not my husband and even my husband, the person I'm going to be with is going to allow me to be my own person."
At another moment in the trailer, she asserts, "I believe that sex was made for a man and a woman in marriage, but I am having physical relationships and honestly, I have had sex and Jesus still loves me. How dare I be judged by a man?"
Tell 'em Hannah!
Chris Harrison also gushed about the fact that Hannah is totally "the real deal," but it didn't necessarily start off that way. She met five of the men on After the Final Rose moments after Harrison revealed she would be the next star. However, she stumbled over her words and could hardly put two words together, which made the reality host a bit nervous.
He told E! News, "It really was a train wreck. She was kind of tragic, and I was scared to death. I know Bachelor Nation was like, oh wow, this is our Bachelorette? I know they were skeptical. I was...scared." 
However, she totally redeemed herself that first evening. "Thankfully she came in on night one firing on all cylinders, and 10 minutes in, I'm like, OK, this is the woman. This is who we picked. This is Hannah," Harrison said. "She came in and crushed it."
To help tide you over until next week's episode, take a look at the photos below for a behind-the-scenes look at Hannah Beast's season of The Bachelorette.