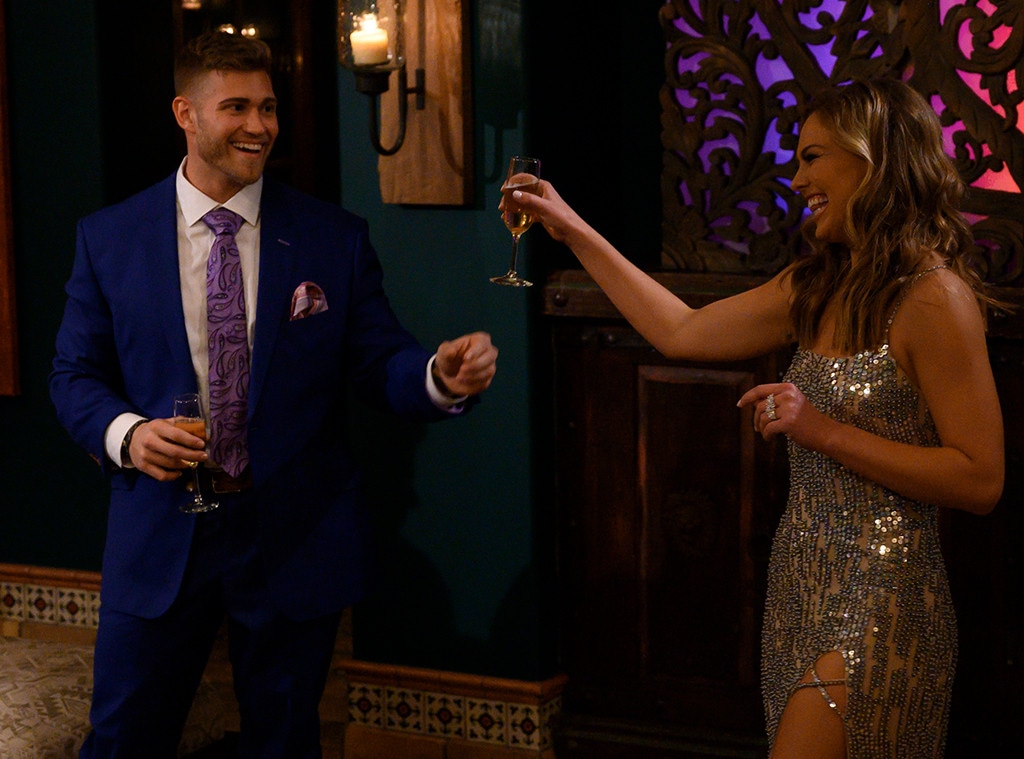 ABC/John Fleenor
Hannah Brown's season of The Bachelorette has FINALLY arrived, which means it's time to start doling out those roses.
Chris Harrison started off the episode by calling it a "dramatic season premiere" and Hannah Beast certainly delivered. The episode began with Hannah finding out via FaceTime that she would be the next leading lady, which she calls "so surreal."
Hannah's goofy personality came through nice and clear in her intro clip. She seemed all the more genuine when she joked, "I don't know what to do with my hands!" Same, Hannah. Same.
Later on, she said in a voice-over while rocking out on an air guitar on the University of Alabama football field, "I want to find a man who loves me for all of me." Well, these 30 men have a lot to live up to.
One of the biggest and most important moments of night one is the gifting of the first impression rose. Hannah met five of her suitors on After the Final Rose, which Chris Harrison called "a train wreck," and she gave out her first-ever rose to Cam that night, who wooed her with a rap. 
Throughout the course of her first evening at Bachelor Mansion, Hannah got serenaded, had someone throw her a "bachelorette party" and suffered through a few awkward conversations. Meanwhile, BFFs Demi and Katie aka "Hannah's Angels" channeled their inner FBI agents in the driveway and were on the hunt for Scott, who allegedly "has a girlfriend." Hannah Beast came out in full force when she called him out and then told him to leave, but we digress.
Although Cam made enough of an influence that first night a few months back, another muscular contestant became the MVP of the first night and received the coveted first impression rose: Luke Parker. Keep on reading to find out more about First Impression Rose Luke. (Head's up: There's also a Luke S. residing in Bachelor Mansion)
Luke's get-to-know-me clip at the beginning of the show featured him shirtless (of course) working out (of course) and flashing his pearly whites (but of course). This 24-year-old Import/Export Manager isn't cutting into a humble pie any time soon.
"I think I'm a good looking guy," he told the camera with a smile and laugh. "When I was in college, a lot of the girls around me thought so too."
However, Luke admitted that he "definitely look advantage of that."
It seems that the Gainesville, Georgia local had a change of heart post-college because he found himself with a sense of "emptiness." He explained, "This emptiness overcame me and then I had an encounter with God."
Cut to a clip of Luke in the shower—but there's a reason for that.
"I was in the shower and God was speaking to me," he said in between soaking his hair with shampoo. "I realized that I wasn't the man that I wanted to be and I've been working on the husband that I want to be for my future wife."
In a complete 180 from the shower scene, Luke then opened up a Bible and later carried his niece.
"I'm ready to get married," he said, citing his brother and sister-in-law as his inspiration. 
Luke said that he and Hannah "share a lot of the same values," which is a huge reason why he thinks they have the potential to last. Religion seems to be one of them. Before entering the mansion to start schmoozing with the 30 men, she uttered a prayer.
We met Luke on the night she gave Cam the first rose. He made it very clear that he only wanted the next Bachelorette to be Hannah and thank goodness it is her!
He told her as he emerged from the limo in a navy blue suit with a purple paisley tie, "I know you call yourself the Beast, but I'm king of the jungle. I'm hoping we can change your title to 'My Queen.'"
As the night progressed, Luke was the first one to comfort Hannah after she kicked Scott's butt out the door. "I wanted to step up and take initiative," he said.
"I just want to encourage you. I know it's hard not to see someone here for the right reasons," Luke told her. "I just want you to know that I am here for you. I'm not here to win a couple roses. I'm here to win your heart."
Oh yeah, he's definitely a favorite. 
After she handed him the rose, Luke beamed, "This really means the world to me."
Cue steamy makeout sesh.
While inside, Luke made his intentions very clear as he was the first one to do the whole "Can I steal you for a second?" thing. Clearly, it worked.
He told her, "Can I be real? You're the most beautiful woman I've ever seen."
Luke and Hannah chatted about his becoming an uncle, growing up in Florida and how Bachelor Mansion was "the last place I ever pictured myself."
Luke told Hannah he thought, "That could be my wife" when he first laid eyes on Alabama Hannah on Colton Underwood's season of The Bachelor.
Luke's personality was pretty evident in the show, but his social media profiles provide another glimpse at his life.
As we saw in the earlier clip, Luke loves working out. He's very into CrossFit and has become quite adept at doing handstands. His Instagram bio also reflects his intro video in terms of his dedication to religion. It reads, "Jesus + Nothing = Everything || Philippians 4:13."
Most of his Instagram pictures involve him exercising in some degree. In August, he competed in a Spartan Race. However, that was small potatoes compared to the triathlon that he did in April and he fared quite well.
"It was my second time ever on a road bike and I placed 2nd in my age group but a big shout out to my brother for finishing 1st in the Clydesdale division," he captioned the picture.
His sport activities extend beyond the road and pool, too. He seems to be very into hunting, which he has posted about numerous times on his Instagram profile.
Luke really loves his family. As he mentioned in his bio video, Luke is a proud uncle. Kennedy Price Parker was born in January and he looked happy as can be while holding her. He's also a mama's boy. In February, he posted a sweet selfie with his mom and he's holding a half-eaten turkey leg (?????? maybe something else???). He apparently greets her with "bear hugs." On Christmas 2016, he shared a number of family portraits, which even featured his black Labrador dog.
Luke's Instagram also shows that he's rather adventurous when it comes to combining food groups. On Feb. 11, he uploaded a picture of a sandwich that he made out of "PB&J with 2 whole eggs, 2 egg whites and Welch's grape jelly. Also have to go with Jif Extra crunchy."
He told his followers, "Don't knock it until you try it."
The first impression rose has a tendency to foreshadow the winner. Some fellow Bachelorette stars gave their first and final roses to the same men, including Rachel Lindsay to Bryan Abasolo, JoJo Fletcher to Jordan Rodgers and Becca Kufrin to Garrett Yrigoyen. 
How do Luke and Hannah fare in this situation? We'll just have to wait and see! Until then, we know he's making it one more week at the very least.
Catch up with Hannah's group of guys here.
The Bachelorette airs Mondays at 8 p.m. on ABC.