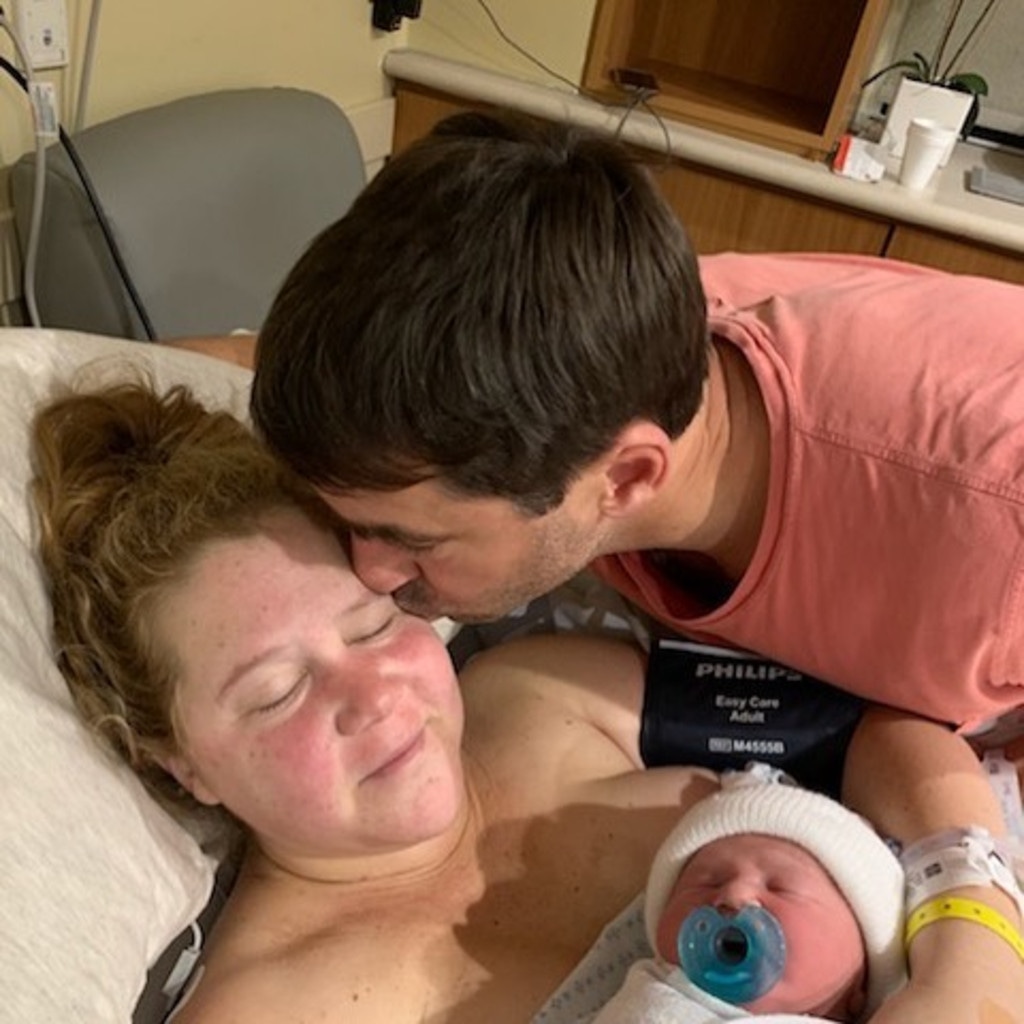 Instagram
Amy Schumer has beat Meghan Markle one more time when it comes to big baby news.
The comedian announced her newborn son's name Tuesday night on Instagram: Gene Attell Fischer. Gene is the first child for Schumer and her husband Chris Fischer.
The 37-year-old (same age as Meghan!) gave birth to Gene on Sunday, May 5 after a particularly grueling and painful pregnancy. She and Fischer revealed they were expecting baby Gene back in October, only a few days after Meghan and Prince Harry announced the same news. Thus, a comedic pregnancy rivalry was born (no pun intended). Schumer took it to the next level on Oct. 22 when she Photoshopped her face on Meghan's body and Fischer's on Harry's in a photo of the royals taking a walk in Australia.
The Trainwreck star told The New York Times that day, "Chris and I are thrilled and almost positive he's the father. I look forward to competing with Markle every step of the way." Meghan and Prince Harry just welcomed their first child, a boy, on Monday as well. 
These two have been in sync nearly every step of the way.
Schumer and Meghan's boys could have had the same birthday and shared it with George Clooney, Meek Mill and Tony Blair, but Schumer beat the Duchess of Sussex to that. She even announced the happy news with a joke about the royals.
"10:55 pm last night. Our royal baby was born," she captioned a photo of herself holding the baby with Fischer kissing her cheek.
She even made her way to the hospital in a very regal manner. Schumer stopped by the Metropolitan Museum of Art as crews were getting set up for the 2019 Met Gala and she posed on the steps in leggings, a grey shirt and tan coat.
"Met look this year," she wrote. "Last night on the way to the hospital." Step aside, Lady Gaga!
Schumer talked extensively about the struggles of her pregnancy and coping with Hyperemesis gravidarum, which ultimately caused her to cancel shows on her tour. She said at the time, "The baby and I are healthy and everything looks good. But I am in my third trimester and I am still nauseous all the time and vomiting. I vomit mostly every time I ride in a car even for five minutes."
There was some speculation earlier that she had already given birth after she made a cryptic comment on Instagram, but she immediately clarified that she was in fact "still pregnant and puking." Two days before giving birth, she posted a picture on Instagram of herself on a hospital bed with an ultrasound machine in the background. She pulled her shirt up high so her baby bump was front and center and Fischer sat in the background.
"Oh yeah does it feel to everyone like I've been pregnant for a long time? It must be getting annoying to you all that I'm still pregnant Well imagine how I feel mother f--kers!!!!!!" she captioned the picture.
Congratulations to Amy, Chris and baby Gene!