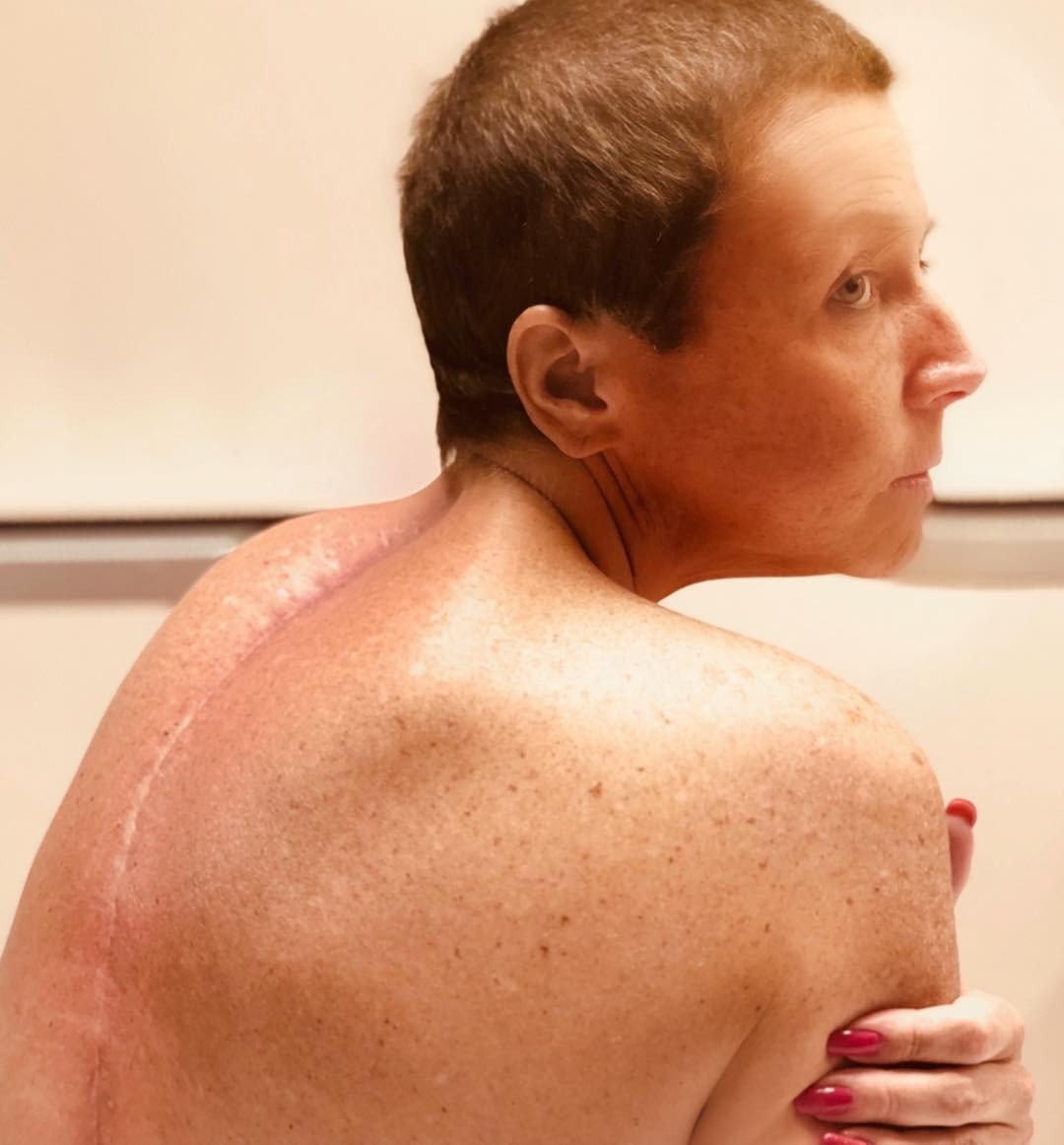 Instagram
Abby Lee Miller is continuing her fight against Burkitt Lymphoma.
The Dance Moms star is revealing the lengthy scar she received after undergoing spinal surgery one year ago. In a candid photo of herself, the dance instructor's bare back faces the camera as she looks over her shoulder into the camera lens. "One year ago today — I underwent emergency surgery for an infection in my spine. This mass/tumor choking my spinal cord turned out to be Burkitt Lymphoma," she explains. 
As a result of this discovery, the reality star says she endured ten rounds of chemotherapy. The 52-year-old adds, "Another spine surgery was needed & I have one more still to go."
But her recovery plan went beyond chemotherapy. Over the course of the following months, Abby says she "struggled thru months of physical therapy to learn to sit up again, to crawl." She currently uses a wheelchair to get around, but shares that "maybe with a miracle someday I'll walk."
The days of therapy, chemo and more appear to be a source of frustration for the former dancer, who says she knew something was wrong from the very beginning, but doctors were never able to properly diagnose the problem. "Why didn't the ER Doctors on duty do their jobs? I came in twice with the same symptoms? Why didn't somebody listen to me, the patient?" She explains,  "I finally found the right team that's why I lived to tell my story, I have a lot to say!"
Her experience with finding the cause of her illness is also driving the star to make a plea to the doctors she worked with: "For those who missed it, misdiagnosed me, and the so called Federal "Doctor" who took me off medication cold turkey and the other ER "Doctor Hollywood" who told me to go home and take it easy for 10 days - STOP practicing! Please."
As for the "top notch" medical professionals who continue to help the reality star in her time of need, Abby is giving them an enthusiastic "thank you."
At the time of the medical scare, Miller spoke out about how grateful she was to be alive. "So much gratitude and love for those who listened, those who looked deeper and those who leapt into action," she wrote. "So much more I wish I could say......about how quickly your life can change at the hands of others. Thanks for ❤️ #abbyleemiller #abbylee #aldc #aldcla #aldcalways #dancemoms #iwilldance." 
Now that the star is in sound health, she will be starring on the TLC series Dance Moms, which is set for a June premiere date.