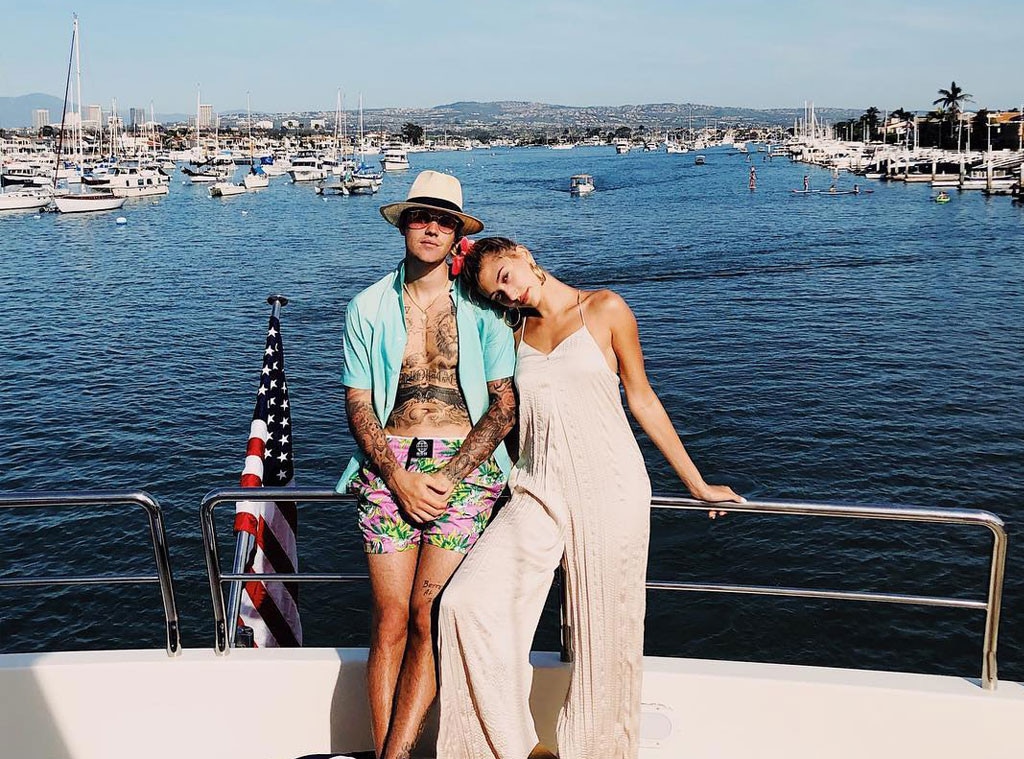 Instagram
Justin Bieber has some thoughts about his couple nickname with his wife, Hailey Bieber.
The couple, who is sometimes affectionately called "Jailey" for short, tied the knot late last year and they have a penchant for posting sweet photos and tributes to each other on social media.
On Saturday, however, the "Sorry" singer took Jailey to a new level with an Instagram upload that did a rather fine job of combining more than just their respective first names.
On Thursday, Hailey posted a series of photos on Instagram from her new campaign that she shot with Adidas. In it, she's wearing blue track pants and a blue Adidas jacket with red sleeves and white stripes. She has a straight face in one photo and a goofy one in another.
It seems that some big Jailey fan on the Internet brought together the best of both worlds and Photoshopped Bieber's head onto his wife's body where she's wearing the Adidas outfit. The true Photoshop artiste even added in Bieber's many tattoos onto Hailey's arm and torso.
"The internet gotta chill," Bieber captioned it. "jailey for real." He also included many laughing emojis alongside it.
While the 25-year-old may have found it amusing, his model wife didn't seem to reciprocate the feelings.
"Lolol I hate this," she wrote in the comments section.
Bieber's mom Pattie Mallette wasn't a fan either. "NO please make it stop," she added.
Patrick Schwarzenegger chimed in, "Honestly...fire."
On a more sentimental note, the Canadian penned a long poem and ode to his wife on Monday as the description for a photo of her from a Maxim photo shoot where she's standing in front of the Eiffel Tower.
"Sunlight falls into the Abyss  / Just like i fall into your lips / Waves crash onto the shore," he began. "My love for you grows more and more / Sound of the crickets a true meditation / I think about you, Gods greatest creation."
Bieber called her his "one true SOULMATE" and that he was lost but God brought them together.
"Things all around us Just get better with time. I fall more in love with you every day! You have walked hand and hand with me as I continue to get my emotions, mind, body and soul in tact!" he concluded. "You have given me so much strength, support , encouragement and joy. I just wanted to publicly honor you, and remind you that the best is yet to come!"
The "What Do You Mean?" singer has been open about his struggles with depression as of late and he's been leaning heavily on Hailey for support.
On March 25, he wrote a message to his fans and followers and told them that he understood they wanted new music, but he needed to prioritize "repairing some of the deep rooted issues."
He added, "Music is very important to me but Nothing comes before my family and my health."
Bieber has even shared selfies from therapy and on Friday said he was "bouncing back."
"I will never stop fighting," he captioned a selfie on himself that he posted on his Instagram Story.