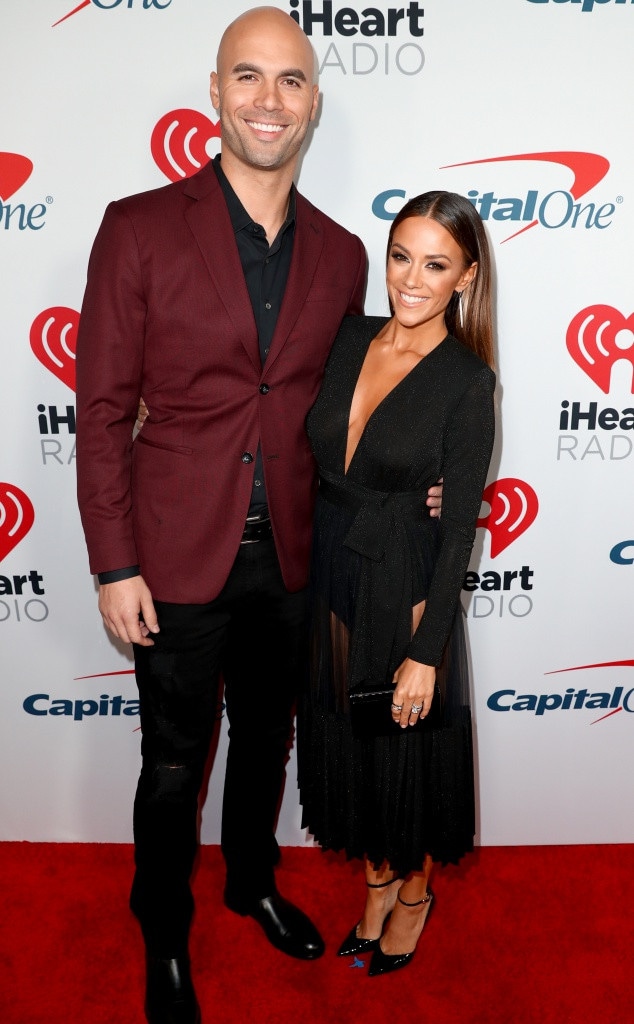 Joe Scarnici/Getty Images for iHeartMedia
Jana Kramer and her husband Mike Caussin are opening up about their relationship once again.
The couple appeared on Monday's episode of Becca Tilley and Tanya Rad's popular iHeartRadio podcast Scrubbing In and discussed a number of topics that included sex and their relationship. Although the two of them have have had bumps in the road like any other couple, it turns out that coming out of the other side means they're the ones dishing out relationship advice to their friends. 
"Friends who thought we were a lost cause are coming to us. It's an affirmation to us. Our relationship is stronger probably than their relationship is," Kramer said on the podcast.
Caussin affirmed, "We're willing to address those difficult conversations and topics."
Kramer said at another point, "I love our relationship and I'm so happy it's this way because I know his good, bad, ugly and all those sides."
At one point in the episode, Kramer teared up and became a bit emotional when talking about something that happened between them moments before recording the podcast.
They were praised for their "strong" relationship and Caussin replied, "We're working on it."
Kramer added, "I was crying in the room 20 minutes ago."
The hosts began asking if she was PMSing or something of the like, and the country music singer said that was "maybe" a possibility.
But there was a bigger reason and Kramer felt apprehensive to talk about it. 
"Don't feel stupid. This is a great learning point," the former NFL player reassured her.
Kramer repeated a number of times that she felt "stupid" for crying and getting upset, but then revealed on the podcast what occurred to make her feel this way.
"When we got back to the room, I asked Mike to have sex with me and he basically said 'no,' which is a trigger for me because I don't feel chosen," she shared. "When I came downstairs he was one-on-one with [Tanya] so I got super triggered. I thought, 'Oh he said no to me but he went downstairs and is spending one-on-one time with Tanya.' Which is stupid because I know you would never."
All at once, all of the podcast members, including The Bachelorette finalist Blake Hortsmann, urged her, "Don't feel stupid!"
Rad praised their relationship and said they were "far stronger than I could ever be."
She continued, "I'm blown away by the strength that you have in your relationship and as a woman. You should be so proud."
Caussin spoke up and assessed, "That makes sense from a rational standpoint. As rational and as silly as it seems, we are at a place where we can acknowledge these things. I empathize with that."
The 32-year-old told his wife that what she said makes him feel "sad." 
He said, "It really hurts me to know that you have to feel that at all. It does. Don't feel stupid. Don't feel anything like that."
The One Tree Hill star later revealed why Caussin rejected her sexual advances. She explained, "Well he said, 'I just took a s-h---t and feel gross.'"
Caussin joked, "Yeah she wanted to have sex two minutes after I walked out of the bathroom. I'm like, 'Honey...'"
Kramer's "triggers" relate to a few years back when she and Caussin separated after a bit over one year of marriage when he cheated on her. She even made a joke about infidelity on her own podcast called whine Down With Jana Kramer, but then publicly apologized to Caussin afterwards.
On March 25, Caussin appeared on Whine Down and opened up extensively about his sex addiction and how he sought treatment for it three year ago. He admitted that it "hasn't been perfect" and he's had some "stumbles" and  "relapses" but he feels like he is at a comfortable place to discuss it. He then assured listeners that his relapse did not involve cheating on his wife again.
"I'm not minimizing cheating because we have other things in Jana and my discussion on boundaries of what's cheating, but no sex outside of the marriage," he said. "I just want to be clear, there weren't any other affairs since that moment."
About a week later, Kramer took to social media and celebrated her husband's one-year sobriety mark with a touching post about his journey.
"On Monday he shared his story and his truth about addiction on the podcast which he didn't have to do by any means but did because he wants to help others. I just want to take a minute to say how proud of him that I am," the "I Got The Boy" singer wrote. "Addiction is a very hard thing for both those going through it and those affected by it but I am so proud of his strength and willingness to be a better man for not only his family but for himself."