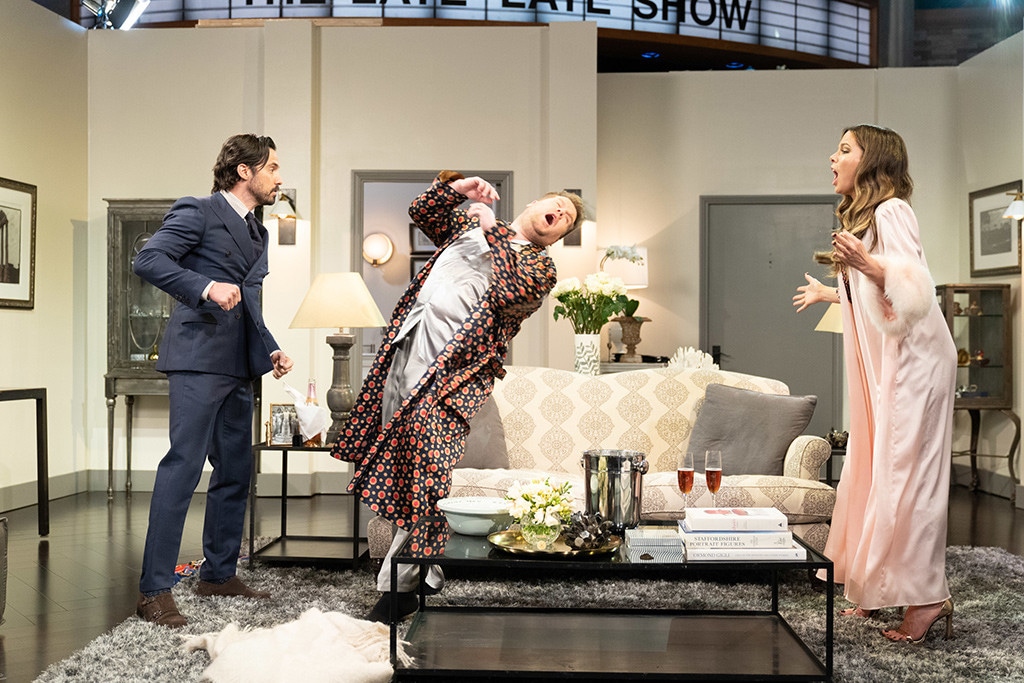 Terence Patrick/CBS ©2019 CBS Broadcasting, Inc. All Rights Reserved
If you like Milo Ventimiglia in This Is Us, just wait until you see him in this new role.
The actor appeared on Thursday's episode of The Late Late Show and acted alongside Kate Beckinsale and James Corden for a Bruno Mars-themed soap opera called "The Bold and the Lyrical." The celebrities performed the entire parody by reciting lyrics from the Grammy winner's music.
The scene opens up with Beckinsale sitting on a couch in pretty pink robe and drinking champagne. Soon, Corden walks in wearing his robe and pajamas and it becomes clear their characters are romantically involved.
"Smoother than a fresh jar of Skippy," the actress says to him, citing "Uptown Funk."
After hearing the turning of the doorknob, Beckinsale forces Corden to hide under a blanket, indicating the two are actually having an affair. Ventimiglia then enters the scene, kisses Beckinsale and proposes to his leading lady. 
"I think I want to marry you," he says, referencing "Marry You."
Suddenly, he hears a cough and notices Beckinsale's new necklace, "strawberry champagne on ice" and "Versace on the floor." He then notices the figure underneath the blanket and Corden's cover is revealed.
"You said you love me. You a liar," he says, citing "Grenade."
As his character's anger rises, Ventimiglia goes slightly off course.
"I'm off the deep end. Watch as I dive in. I'll never meet the ground," he says. 
"Oh, no. Sorry, I think that's Lady Gaga," Corden says, pointing out the A Star Is Born blunder. 
Then, Corden and Ventimiglia get into a slapping match and force Beckinsale to pick her main man. After a long, dramatic pause, she decides to be with Ventimiglia.
Watch the video to see the hilarious sketch.
This isn't the first time Corden had performed a "Bold and the Lyrical" sketch. Back in September, he acted alongside Kaley Cuoco and Joel McHale in a Drake-inspired soap opera. He's also starred in a Katy Perry-themed skit along with Claire Danes, Christine Baranski and Jack McBrayer, as well as a Kanye West-inspired version with Jessica Biel, Bryan Cranston and Giovanni Ribisi.