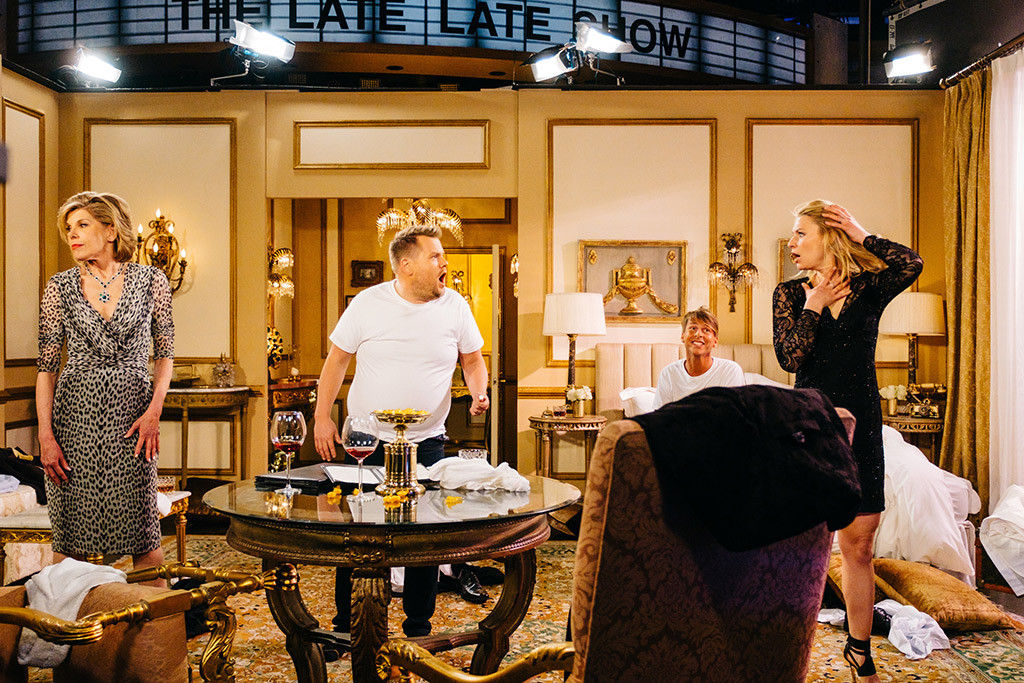 CBS
Katy Perry can add screenwriter to her résumé.
James Corden adapted a few of Perry's songs for his newest edition of The Bold and the Lyrical. This time The Late Late Show's soap opera starred Christine Baranski, Claire Danes, Jack McBrayer and Corden. It kicked off with Corden waking up in Las Vegas, having forgotten everything he had done the night before.
"There's a stranger in my bed. There's a pounding in my head," Corden said, referencing Perry's "Last Friday Night." And who might that stranger be? Danes!
"I'm wide awake," said Danes, shooting up from the bed. As the memories came pouring back in, Corden realized there's more to the night than a potential elopement with the Homeland actress.
"Then we had a ménage a trois," McBrayer shouted, jumping out from beneath the sheets. "I kissed a girl and I liked it."
Little did Corden know that his threesome would be the least of his concerns. Baranski stormed into the room, catching Corden in the midst of his what-happens-in-Vegas-stays-in-Vegas dilemma.
"I used to be scared to rock the boat, so I feel for everything," Baranski said. "Well get ready because I've had enough. I've got the eye of the tiger dancing through the fire you're going to hear me roar."
Instead of "roaring," however, Baranski slapped the British host, which then inspired Danes to smack him. Naturally, McBrayer had to get in on the fun. 
"Jack, that wasn't even in the script," noted Corden.
"I know," McBrayer confessed. "It just looked so fun."
But a soap opera wouldn't be a soap opera without a double betrayal. Watch the video to find out who was really having an affair!