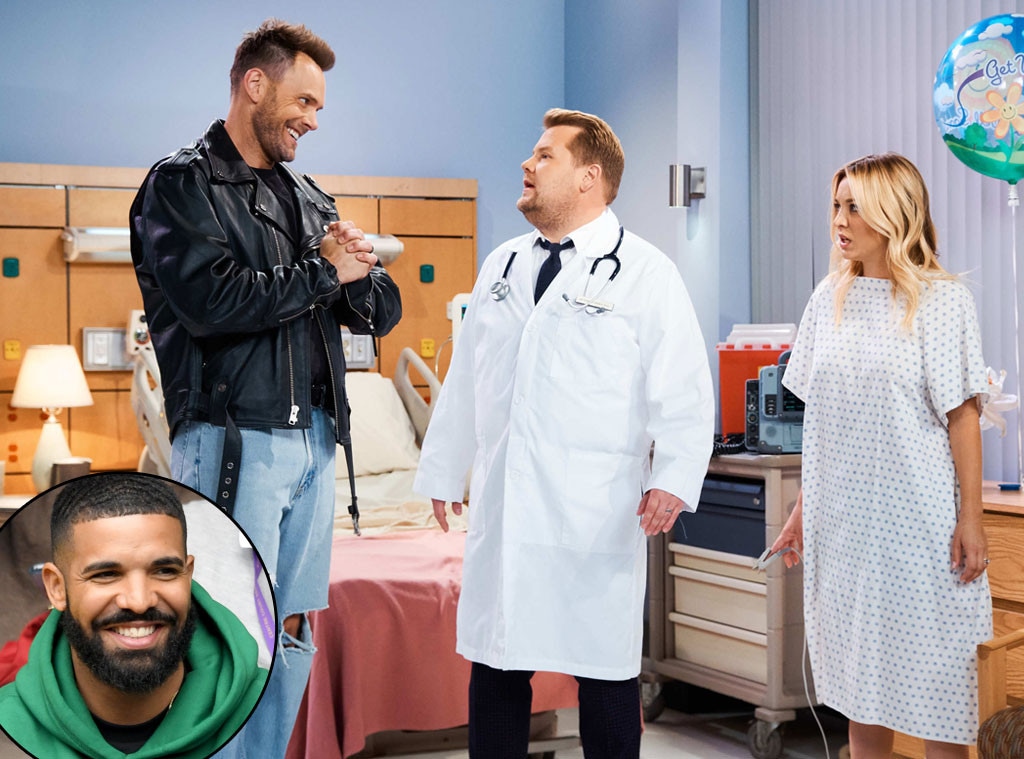 Terence Patrick/CBS, Karwai Tang/WireImage
Drake's songs are filled with drama—so much so, in fact, that James Corden, Kaley Cuoco and Joel McHale created a soap opera based on his lyrics.
The trio performed the skit, titled "The Bold and the Lyrical Written by Drake," on Wednesday's episode of The Late Late Show. 
The scene opened with Cuoco resting in a hospital bed. Her doctor, Corden, entered the room and confirmed the patient's name. 
"Last name, ever. First name, greatest," he said, referencing "Forever."
Soon, it became clear that Cuoco and Corden's relationship extended far beyond the hospital's walls.
"You used to call me on my cell phone late night when you need my love," The Big Bang Theory star claimed while citing "Hotline Bling."
Then, McHale entered the room and the two men started competing for her love. Corden insisted Cuoco deserved more than the kind of relationship McHale could provide.
"I'm just sayin' you could do better. You're a good girl and you know it," he said, double dipping into two of Drake's songs: "Marvins Room" and "Hold On We're Going Home."
However, the Community star botched his lines when he accidentally dropped a Cardi B lyric.
The plot thickened after Cuoco's character suffered a heart condition but was revived. The fight between the two men then escalated, and they engaged in a slapping fight.
Finally, they forced Cuoco's character to follow her heart and choose a man.
"Kiki, do you love me?" they both asked, citing "In My Feelings."
However, it seemed like she didn't love either man. 
"I only love my bed and my momma. I'm sorry," she said before running out of the room to the words of "God's Plan."
Watch the video to see the hilarious skit.