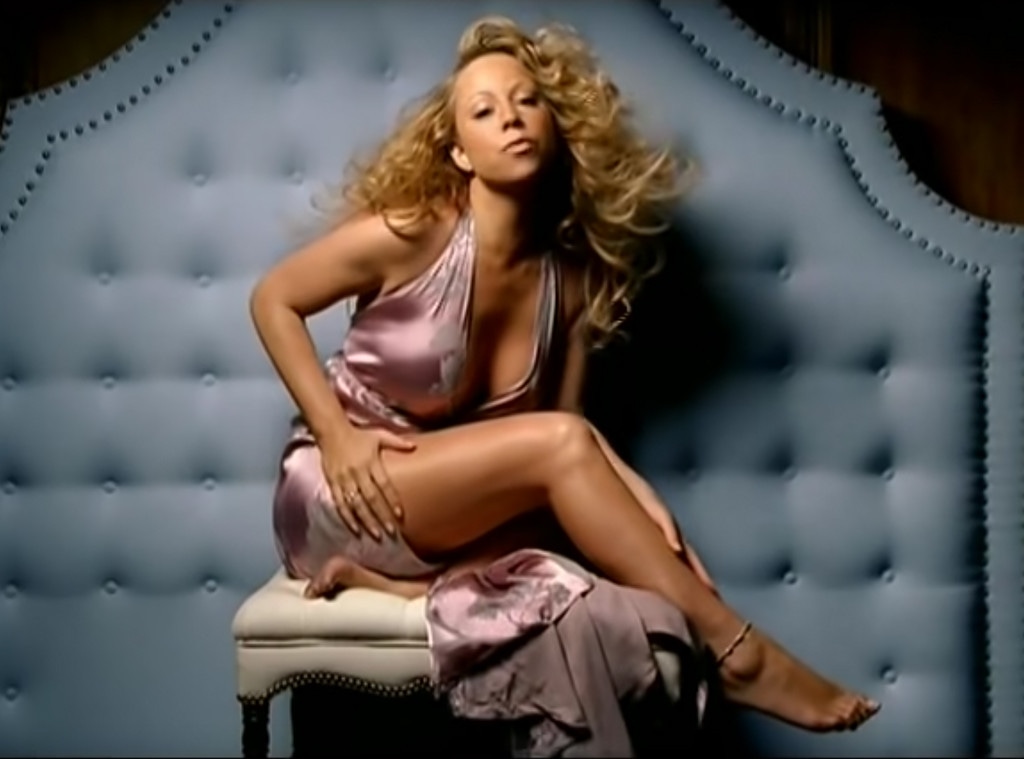 The Island Def Jam Music Group/YouTube
Throw some glitter and let it rain, because it's the one and only Mariah Carey's birthday!
Our ultimate pop diva winner turns 49 today and she's just as fierce and fabulous as she was when she first came on the music scene nearly three decades ago. The "Touch My Body" singer is currently on her 11th headlining tour and she doesn't seem like she's ever going to stop...thank goodness.
Over the years, Carey has given us many memorable songs, concert moments and style inspiration to last us a lifetime. One of our favorite things about the birthday girl is the fact that she's continually made music videos that we love to watch.
The "We Belong Together" singer has created so many music videos over the years that we've lost count, but we do have 10 videos below that stand out to us no matter how old they get.
In honor of the music icon's birthday today, we've decided to round up those top 10 videos for you to take a look back at.
Once you've scrolled through all of these epic music videos, make sure to vote for the one you think is her best work...as of now. From "Honey" to the release of "A No No" this month there is quite a variety of hits that have made an impression on fans in music video form.
So, as we toast to Carey and another year of fierceness, let's enjoy a day of listening to her amazing hits, shall we!
"We Belong Together"
As one of Carey's most iconic songs we had high hopes for this video and it didn't disappoint. Throughout the video for "We Belong Together," we see the artist alone in her mansion, getting ready as a young Wentworth Miller (from Prison Break) arrives to watch her get married. As she walks down the aisle it's clear that Miller is the one she really loves. All of a sudden she panics, he jumps off his perch and she runs away to him. It's so romantic.
"All I Want for Christmas Is You"
It might not be Christmas right now, but watching this iconic video always makes us feel merry. It captures all of the goodness of the holidays, like snow, decorating the tree and Santa and mixes in all of the glam we've come to expect from Carey. It's pure Christmas joy…which we can use year round.
"Fantasy"
In "Fantasy" Carey roller blades on the boardwalk, rides a roller-coaster and gives us major carnival vibes. Sure, there are a few too many clowns for our liking, but overall this video is great, mainly because it embodies everything good about going to a beach-side circus in the summertime.
"Touch My Body"
"Touch My Body" shows what happens when a nerdy computer repair man (played by Jack McBrayer) meets Carey at her mansion. When the singer answers the door in lingerie the geeky guy freaks out even more. Throughout the video she rolls around with McBrayer, as he wears a Viking hat, before treating him like the king to her queen. It's a hilarious romantic fantasy and it might be our favorite video ever.
"Dreamlover"
Carey as a country girl? Yes, please! In "Dreamlover," we see a young Carey singing in a field, wearing a flannel shirt and cutoffs as glimpses of flowers, friends dancing and a hot air balloon play. It's such a sweet and retro video.
"Honey"
Agent M (AKA Mariah) will see you now! This secret agent mission themed video is so amazing. It begins with Carey being held captive after getting caught trying to carry out a mission. She manages to escape, changes her wardrobe into a fierce wet suit and despite being chased she gets away safely to a secluded island where a hunky man is waiting for her.
"Always Be My Baby"
We've never wanted a rope swing more than after watching this video. This dreamy video takes place in the woods where Carey is swinging on a rope on the lake and dancing by a campfire as we see a childhood romance play out in the background. Two little kids at camp run off into the woods to explore together, and experience their first love and it's so sweet.
"Up Out of My Face" feat. Nicki Minaj
Barbies, nurses and Nicki Minaj, what's not to like? This video is all about the red and white color scheme and although it's simple it has both Carey and Minaj dressed as nurses, standing in doll boxes and singing, so it's pretty great.
"Heartbreaker" With Jay-Z
Carey's killer abs are on full display in this video as she dances in the lobby of a theater with her girls. It's everything we love about the artist in one place. Fun fashion, a sweet voice and choreographed routines. Oh, and then there's the bathroom fight scene and Grease playing in the theater with Carey as Rizzo!
"A No No"
Carey's most recent music video is all about partying on the New York City subway and we're here for it. There are bright colors, neon lights, dance parties, graffiti and even the singer's twins make an appearance which makes it that much more fun.
Now that you've heard our top 10 picks from Carey's music video catalog it's time to vote. When in doubt just think, what would Carey do and the answer will come to you!
Mariah Carey's Music Video Poll