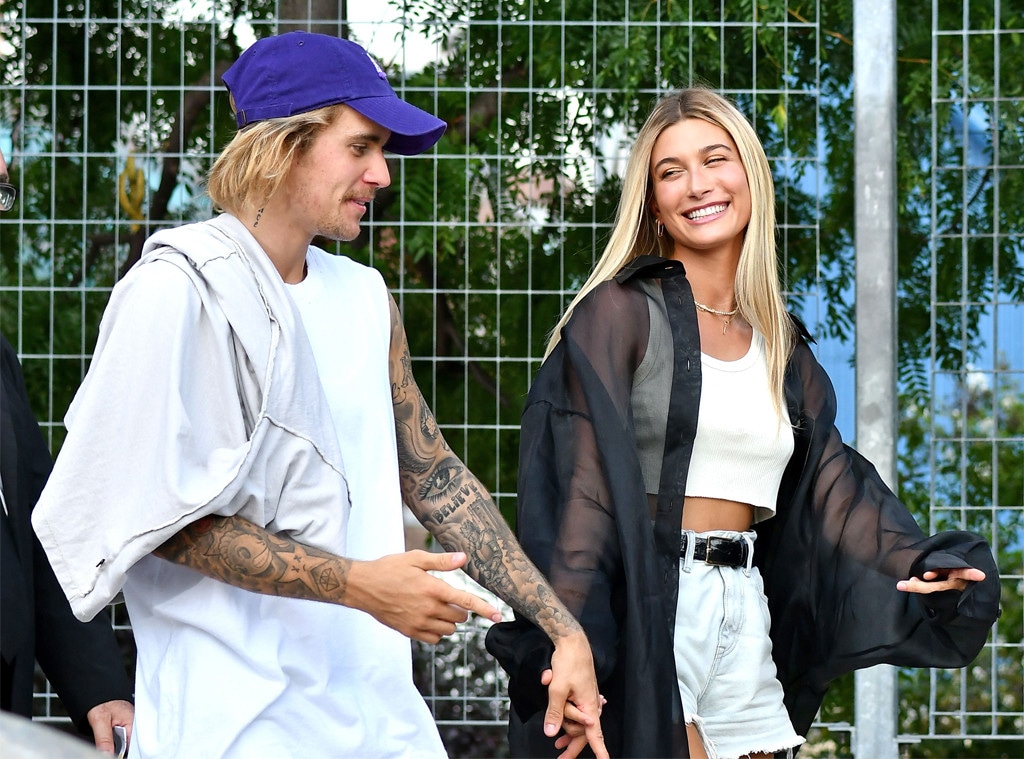 Rodin Banica/WWD/REX/Shutterstock
If the world could be split into two camps on love—those that subscribe to the notion that when you know, you just know and the more pragmatic among us who require a bit more time and life experience to be assured we've chosen a solid life mate—well, count Hailey Baldwin firmly in the former. 
That's how the model was able to confidently say yes to now-husband Justin Bieber mere weeks into resuming their romance this summer and how she managed to block out the haters that suggested she was perhaps a bit young to commit to forever. Marrying early was kind of a family thing with dad Stephen Baldwin tying the knot with graphic designer Kennya Deodato in his early twenties and sister Alaia Baldwin taking the plunge in 2017 at 24. So when she and the 24-year-old pop sensation found themselves in a New York City courthouse this September two months shy of her 22nd birthday, quietly eloping just made sense. 
"I see no reason to wait," she told The Cut in an interview granted just before her spontaneous vows. "When you know it's right, it's right."
Of course, that doesn't make the process any easier. Recently, in back-to-back sit-downs the Drop the Mic host opened up about the fact that she finds the whole matrimony thing kinda difficult. 
"The thing is, marriage is very hard," she shared in the March edition of Vogue, which finds her posing in bridal-inspired designs alongside her husband of five months. "That is the sentence you should lead with. It's really effing hard."
Particularly for someone like Baldwin who hasn't had the benefit of a practice round or two. Bieber is her first serious relationship, she revealed while chatting with pal Kendall Jenner last week on Zaza World Radio's Valentine's Day Special on Apple Music, and they didn't exactly follow the most conventional of paths. "It was this weird limbo," she explained of the rollercoaster union that began when she was a teen. "We were friends and then it was, like, more, and then we weren't. And then we didn't speak for a very long time." 
So to go from reopening the lines of communication to fiancée status in just a handful of Miami and NYC weekends was jarring to say the least—even more so to close out 2018 with a new last name. "That's why I say it's scary, 'cause I didn't have any of that experience before," she said in the Valentine's special. "So I went from being a baby, not having a lot of experience to being married." 
Not that she necessarily regrets diving into the deep end. "It's a scary thing, but it's also the person that I've literally been in love with for some many years," she added. So that's the best part about it. Like I feel like he's my best friend. And we just get to do life together forever now. But I think the forever aspect for me is just like, you don't think about that until you get married. And then you're like, okay, this is really like, this is forever. Meaning, like, there is no end."
Part of the adjustment for Baldwin was as basic as getting used to sharing a physical space. 
While the couple's L.A. hotel suite offers up plenty of square footage and enough bathrooms that no one's bumping elbows as they brush their teeth (they're currently in the market for a California spread in the $10 to $15 million range), there's still a learning curve involved with gaining a new roommate. 
"I've always been so independent," explains the stunner, whose career has taken her from the suburbs of New York where she was homeschooled to Dolce & Gabbana, Moschino, and Tommy Hilfiger runways in New York, Paris, London and Milan. "So for me, trying to cohabitate with someone and learn how to, like, do life with another person, that directly has just been interesting. It's so different." 
As tricky as navigating dirty dishes and squabbling over decor has been shouldering a new emotional load. "When you're single you literally don't have to think about anything else. You think about your family, because it's your family. And you know, you love them. You think about your parents, siblings, whatever," she said on Apple Radio. "But you don't actually have to be responsible for....But I think that's also what it's like when you're in a serious relationship....You have to consider another person."
And the honeymoon stage of her marriage has left Baldwin with much to contemplate. 
Though she and Bieber remain thrilled with their upgraded relationship status, years of unchecked emotional issues, stemming from his struggles with fame, have inspired the "What Do You Mean?" singer to seek treatment for depression. 
"I was real at first," he told Vogue of bursting into the public consciousness as a plucky 13-year-old from Ontario, Canada, with a collection of YouTube videos and charm aplenty, "and then I was manufactured as, slowly, they just took more and more control." 
By 16, with girls screaming his name wherever he went, "I started really feeling myself too much. People love me, I'm the s--t—that's honestly what I thought. I got very arrogant and cocky. I was wearing sunglasses inside."
He soon found himself shifting from a punk teen, buying into his own cred, to fully self-destructive, his more catalogued antics—everything from egging a neighbor's house to patronizing a Brazilian brothel—belying a much more serious problem: a growing dependence on Xanax. It was a habit he kicked in 2014 thanks to a weeks-long detox at Hillsong pastor Carl Lentz's New Jersey home, but some of the mental struggles still remain. 
"He doesn't know why he feels the way he does and it's frustrating," an insider told E! News. "He has everything he wants on paper." 
That includes the woman he calls the security he's been seeking for much of his life. Part of his orbit since her uncle Alec Baldwin scored her tickets to watch Bieber's Today show appearance in 2009, "Hailey has known about his struggles for a long time," a source explained to E! News. "He has dealt with depression before and this is not new to her." 
Such familiarity has made the model the perfect companion for this stage in Bieber's life. Having scaled back on work commitments to fully celebrate her personal ones, "She goes with him to appointments and meetings," shared the source. "She's very involved in his plan of action and making decisions. She's the rock right now and he goes to her for everything." 
Still, being that emotional base is a tall order for any 22-year-old, much less one forced to absorb a slew of (largely uninformed) opinions from the singer's passionate collection of Beliebers—many of whom are rooting for his romance to crumble. 
"It hasn't been easy on her," admits the source. "She's been concerned and stressed out because she doesn't want to see Justin struggle. It's hard to watch." 
And it's meant putting their much-discussed wedding reception on hold as Bieber focuses in on his own well-being. "That's definitely not the priority right now," says the source. 
Even if it were, the duo's plans for a spiritual ceremony that would incorporate all of the family and friends that missed out on their courthouse vows are admittedly, as the source put it, "all over the map." 
Baldwin has gone from envisioning a West Coast venue strung with fairy lights to pondering a more island locale, with a source telling People, "They are currently looking into options for a tropical wedding."
Not that such indecision matters much when they have a lifetime to sort out the details, a reality that still leaves them giddy. 
Baldwin eschews the idea that she was a Belieber when her father connected with the musician's mom at that Today appearance. The born-again Christians bonding in such a way that ensured their kin would remain in touch. 
"It was never that crazed, screaming thing," she insisted to Vogue. "I didn't think about it in any kind of way except for the fact that he was cute. Everybody had a crush on him. But for the first few years we had weird age gap." 
A shared faith reconnected them years later, when Baldwin began attending services at Australian megachurch Hillsong. "One day Justin walked into Hillsong and was like, 'Hey, you got older.' I was like, 'Yeah, what's up?'" she recalled. "Over time he became my best guy friend. I was running around with him as his homie but we weren't hanging out [romantically]."
But it's not like they weren't attracted to each other. By early 2016, as a friend was defining their casual hangs as "more than just a fling," Bieber was fumbling around for the right words to describe it himself. 
After the peaks and valleys that marked his romance with first love Selena Gomez, he was cautious about throwing around the term girlfriend. Describing the model as "someone I really love" in GQ's February 2016 issue, he made it clear that nonetheless they weren't exclusive. 
"I don't want to put anyone in a position where they feel like I'm only theirs, only to be hurt in the end," he reasoned. "Right now in my life, I don't want to be held down by anything. I already have a lot that I have to commit to. A lot of responsibilities. I don't want to feel like the girl I love is an added responsibility." 
It wasn't so much a desire to be unfettered, to take advantage of the fact that he was Justin Bieber and that there would be a slew of eager companions no matter how recklessly he behaved. No, actually, it was much more thoughtful—and ultimately prescient—than that.
"I know that in the past I've hurt people and said things that I didn't mean to make them happy in the moment," he continued. "So now I'm just more so looking at the future, making sure I'm not damaging them. What if Hailey ends up being the girl I'm gonna marry, right? If I rush into anything, if I damage her, then it's always gonna be damaged. It's really hard to fix wounds like that. It's so hard.…I just don't want to hurt her."
An open-ended relationship isn't always the stuff dreams are made of, but Baldwin seemed to uniquely understand the limitations that came with being linked to a pop star of Bieber's caliber. Calling his viewpoint "awesome," she explained to E! News, "He's about to go on tour." Doubtlessly imagining the sort of temptations that lurked in every corner of the globe she added, "Relationships at this age are already complicated." No need to muck it up further with any type of label. 
Still, for all their best intentions, Bieber did end up hurting his future bride. "Negative things happened that we still need to talk about and work through," she admitted to Vogue. "Fizzled would not be the right word—it was more like a very dramatic excommunication. There was a period where if I walked into a room, he would walk out." 
But, once again, last June, their faith would bring them together, specifically to a Miami conference hosted by Vous Church pastor Rich Wilkerson Jr. Both decidedly single and unfettered, "By then we were past the drama," Baldwin said. "I just gave him a hug. By the end of the conference, he was like, 'We're not going to be friends.' I was like, 'We're not?'" 
Weeks later, during a trip to the Bahamas, she got her answer as Bieber presented her with a custom oval diamond, designed to mimic Blake Lively's engagement ring that Baldwin has long admired. 
Eager to wed, in part because Bieber was ready to break the celibacy he'd imposed on himself for more than a year, they've chosen to work through whatever differences exist as husband and wife. 
"I'm the emotionally unstable one," Justin told Vogue. "I struggle with finding peace. I just feel like I care so much and I want things to be so good and I want people to like me. Hailey's very logical and structured, which I need. I've always wanted security—with my dad being gone sometimes when I was a kid, with being on the road. With the lifestyle I live, everything is so uncertain. I need one thing that's certain. And that is my baby boo." 
Vasquez-Max Lopes / BACKGRID
Which gets at the heart of why the pair are willing to work at their nascent marriage, differences in communication ("I just need to express myself, and it's been really difficult to get her to say what she feels," he told Vogue), ongoing counseling and all.
"We're coming from a really genuine place. But we're two young people who are learning as we go," Baldwin told the fashion mag. "I'm not going to sit here and lie and say it's all a magical fantasy. It's always going to be hard. It's a choice. You don't feel it every single day. You don't wake up every day saying, 'I'm absolutely so in love and you are perfect.' That's not what being married is. But there's something beautiful about it anyway—about wanting to fight for something, commit to building with someone. We're really young, and that's a scary aspect. We're going to change a lot. But we're committed to growing together and supporting each other in those changes. That's how I look at it. At the end of the day, too, he's my best friend. I never get sick of him."