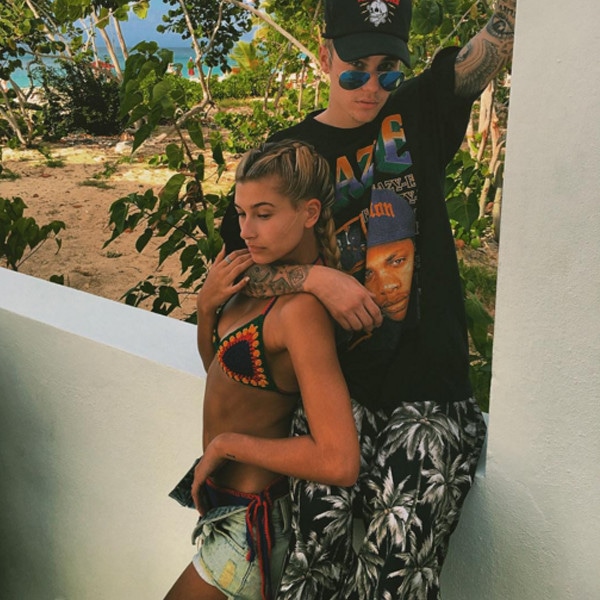 Instagram
Hailey Baldwin was always The One! 
Perhaps Beliebers should've seen Justin Bieber's proposal to the model coming from a million miles away, as a newly resurfaced interview from 2016 proves he had his heart set on Baldwin from the start. 
Just as they began heating up more than two years ago, the Purpose pop star addressed the particulars of his relationship with Baldwin and even mentioned one day marrying her in a GQ magazine profile.
Bieber, now 24, described Baldwin, 21, as "someone I really love" but was honest about not wanting to settle down so quickly. "I don't want to put anyone in a position where they feel like I'm only theirs, only to be hurt in the end," he shared. "Right now in my life, I don't want to be held down by anything. I already have a lot that I have to commit to. A lot of responsibilities. I don't want to feel like the girl I love is an added responsibility."
Justin continued, "I know that in the past I've hurt people and said things that I didn't mean to make them happy in the moment. So now I'm just more so looking at the future, making sure I'm not damaging them. What if Hailey ends up being the girl I'm gonna marry, right? If I rush into anything, if I damage her, then it's always gonna be damaged. It's really hard to fix wounds like that. It's so hard.… I just don't want to hurt her."
Honestly, we couldn't make this stuff up if we tried! 
In response to the bombshell admission, Hailey told E! News at the time she thought his point of view was "awesome" and clarified that they weren't an "exclusive couple." 
"Relationships at this age are already complicated, but I don't really like to talk about it because it's between me and him," she explained. 
Oh, how times have changed! 
After the couple's engagement news broke, a source told E! News, "Justin is happier than ever and wants to be with Hailey. His family is very supportive and know he has been at his best lately. Everyone is very happy for him."
And so are we! These two have made us believe in fate all over again!