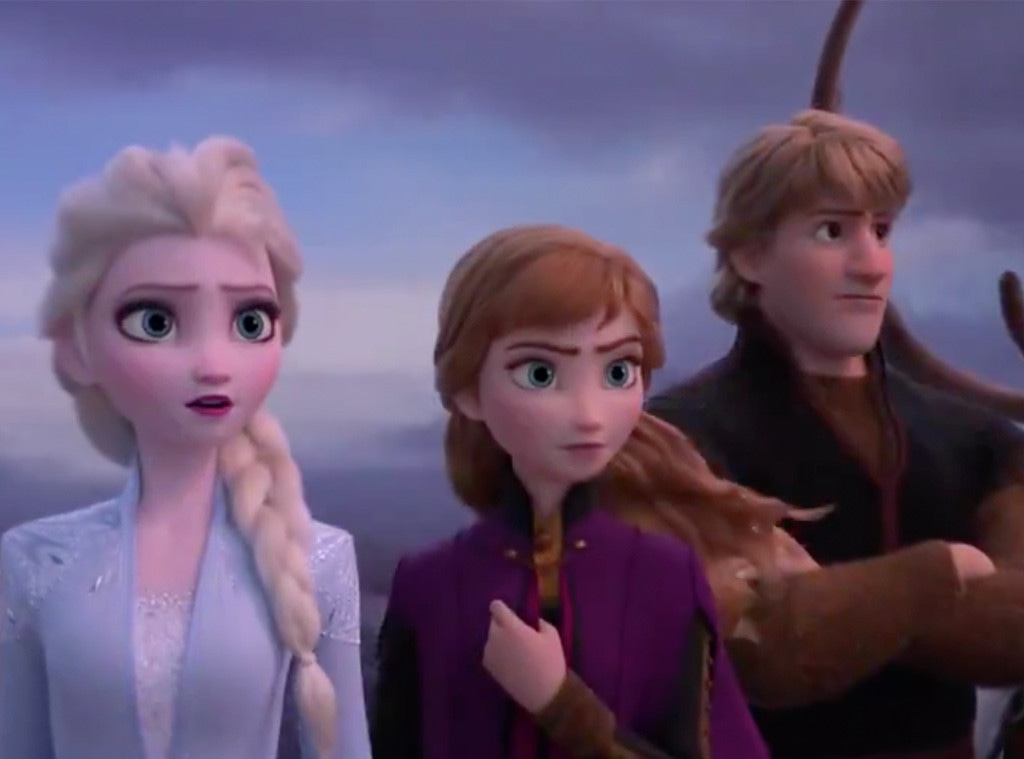 Twitter
We can't let our excitement for Frozen 2 go!
Back in February, Disney dropped a big surprise by releasing a teaser for the highly anticipated sequel. Since then, fans have continued to catch small glimpses of the film. The studio released its first official trailer in June and dropped another one in late September. As more footage has been released, fans have been able to learn more about this next chapter. 
For instance, the last time fans saw Elsa (played by Idina Menzel) she was trying to use her powers to create a path of snowflakes and ice and travel across a roaring sea. Viewers also saw her head into an enchanted forest with Anna (Kristen Bell), Olaf (Josh Gad), Kristoff (Jonathan Groff) and Sven. Still, the purpose of their journey remained a mystery. While one of the mystical trolls told her the "past is not what it seems" and that she needed to find her truth, fans still didn't have much context. Now, they can start to put the pieces of the puzzle together.
So, what exactly do we know about the sequel? We're so glad you asked! After some serious research, we compiled some key facts about the project. Let's dive in shall we?
Recording Complete: Back in April of 2018, Bell appeared on The Ellen DeGeneres Show and revealed that she has already recorded her part of the film's sequel. "Well, you know, I can't say a lot because Disney has people everywhere," she teased. "But, I have recorded the movie. There will be edits before it's finished."
She added, "I know the songs, I know the story—it's very good. I can't say much more than that or I'll get in trouble."
New Faces: Wood and This Is Us star Sterling K. Brown willd lend their voices to Disney's sequel. Back in July of 2018, Variety reported the Hollywood stars were in talks to appear in Frozen 2. And while Bell couldn't confirm anything, she did show her support at the possible casting. "I love me some Sterling, I'll tell ya that much!" she shared with Entertainment Tonight.
The Secret Plot: The new trailer takes viewers back to Anna and Elsa's childhood days. They're told a story about an enchanted forest. According to the legend, the forest was a magical place until something went terribly wrong. Since then, nobody has been able to go in or out. Now, something is calling Elsa, and she must answer the call if she hopes to learn more about her powers and keep the kingdom of Arendelle safe. While Elsa feared her powers were too strong in the first film, she now hopes they will be enough to help her fulfill her quest. Luckily, she'll have her sister and friends along for the journey.
Like the rest of the cast, Groff is mum on what to expect from his Kristoff. But, while sitting down with the New York Times he did tease that his character "is ready to take it to the next step" with Princess Anna. Hmm, what would that mean?
"Let It Go" Part 2: There's no question that the original Frozen resulted in several smash hits. After all, can you find a kid these days who doesn't know every word to "Let It Go" and "Love Is an Open Door?" When it comes to the film's sequel, co-director Jennifer Lee is confident the team has more than a few fresh hits on their hands. "We have a new song that I think is an evolution," she teased to Variety. "It's its own song…We've been working with them for two years and this song just came in and I love it."
In September, the soundtrack's track list had, at long last, been unveiled. It will feature original songs from Oscar-winning songwriting duo Kristen Anderson-Lopez and Robert Lopez, each performed by original cast members as well ass Evan Rachel Wood, Kacey Musgraves, Panic! At the Disco and Weezer. Needless to say, it's going to be amazing.
More Movies, More Fun: During a recent interview with Fandango, Frozen co-director Chris Buck teased that Elsa will have a bit more "fun" in the upcoming sequel. "[In Frozen,] she had such a dramatic journey, and at the end she's just starting to feel like she can open up and have some fun again," he explained. "That's what was really good about Frozen Fever—we could have fun with Elsa. And that personality...you will see in the next one."
(This story was originally published on Wed., Feb. 12, 2019 at 12:19 p.m. PST.)