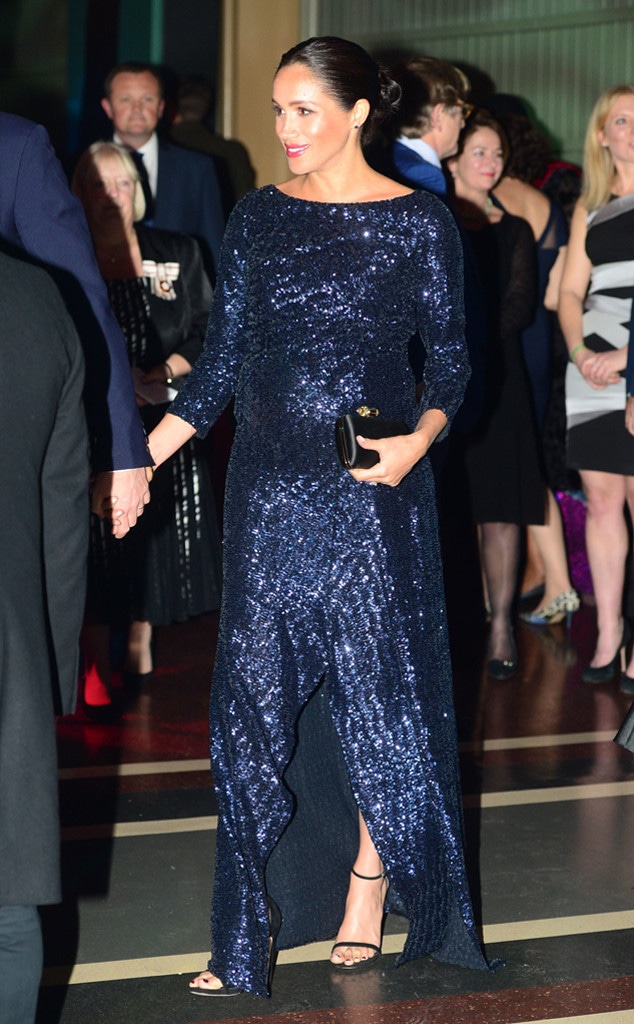 Paul Grover/Daily Telegraph/PA Wire
Meghan Markle truly sparkled on her date night with Prince Harry and it isn't just because she looked gorgeous.
The Duchess of Sussex stepped out in a navy blue, sequined, floor-length Roland Mouret gown for a royal date night at the Royal Albert Hall on Wednesday night. As the paparazzi cameras snapped away Meghan's £3,400 evening dress shimmered in the glow of the lights, giving her an ethereal glow. 
She accessorized with a black satin Givenchy clutch and an elegant gold bracelet that used to belong to Harry's later mother, Princess Diana. Meghan finished off the look by pulling her long dark locks back in a bun and wearing a red lipstick.
Harry and Meghan attended the charity event that was organized to raise funds for Prince Harry's charity, Sentebale, which delivers aid to youth who are battling HIV in Africa.
And while it is reported that Meghan and Harry have chosen to wait until the birth to find out the sex, some think Meghan is hinting at the sex with her fashion choices. The 37-year-old has been frequently seen sporting greens and blues since announcing she is expecting her first child with Prince Harry. 
Watch:
Meghan Markle Gets Called a "Fat Lady"--and Loves It!
Over the holidays, Meghan once again wore a navy blue dress to the Christmas Day service with her fellow royals. She also wore a stylish baby blue gown to a reception and State Dinner in Fiji, making people think she is hinting at the gender. Moreover, she has yet to wear pinks and other colors that are commonly seen as feminine. 
If the Duchess is indeed hinting that she and the Prince will welcome a boy in April or May, then some people will be very disappointed to lose their bets on the sex. In recent days, a flood of people have been placing their bets on Meghan and Harry having a girl, which has reportedly forced bookies to suspend all bets.
Let the countdown begin!