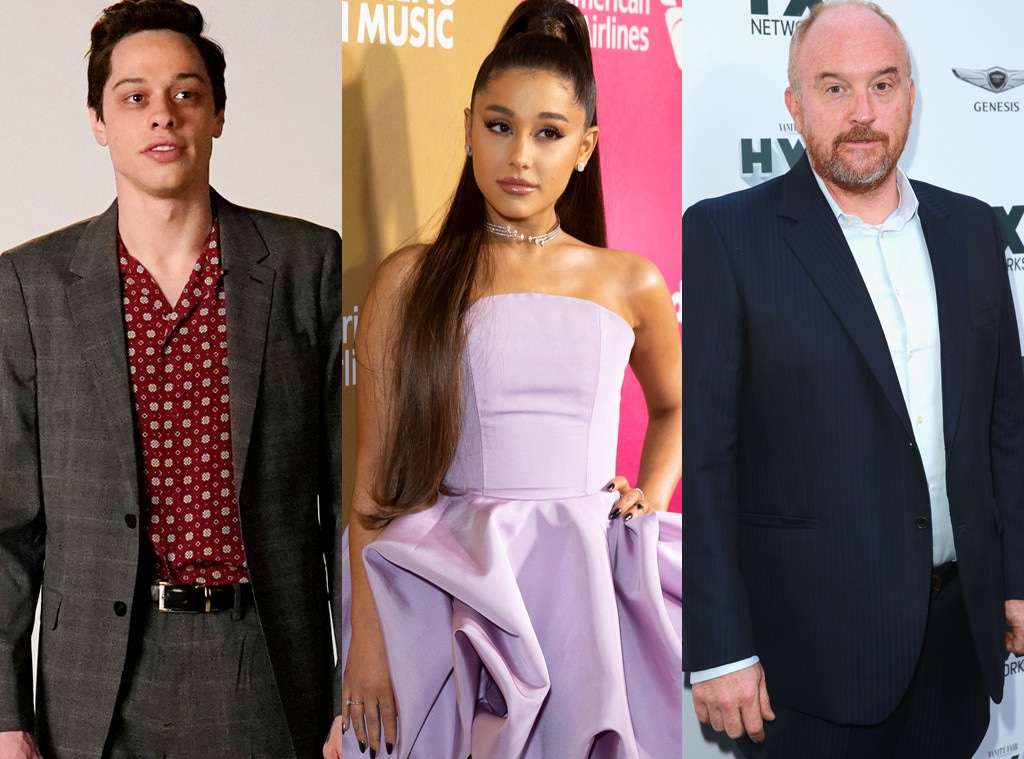 Ava Williams/NBC/NBCU Photobank; Lev Radin/Pacific Press/LightRocket via Getty Images; Rich Fury/Getty Images
Pete Davidson is starting off the new year with some laughs.
The 25-year-old did a stand-up comedy show in Boston on Monday night and poked fun at his relationship history as well as some fellow comedians. A source inside the show told E! News that Davidson spoke about his ex-fiancée Ariana Grande at some length. 
He also discussed Louis C.K., who was accused of sexual harassment in November 2017 and made a less-than-popular return to the stage a few months ago. C.K. drew ire on Sunday and into Monday after making jokes about the Parkland shooting survivors and calling Gen Z kids "f--king boring."
Before Davidson went on, fellow comedians Jordan Rock, Dave Cyrus, Joey Gay and Ricky Valez performed their own sets.
In Boston, Davidson discussed his relationship with the "No Tears Left to Cry" singer as well as some drug use.
Davidson spoke for a bit about Grande's hit song "Thank U, Next" that addressed all of her exes. She sang about him in the first verse: "Even almost got married / And for Pete, I'm so thankful."
Well, he had some bits and pieces to say about the tune. 
"Here's the thing about the breakup song. Usually breakup songs you know who it's about but you don't really know. That G named all of us," he told the crowd. "Bam. She named all of us. And then, tells us, yeah, he has a big dick." (There were some cheeky comments here and there about his...package. The information even became its own euphemism known as BDE.)
She released "Thank U, Next" moments before Saturday Night Live aired, and he called it a "sad day." He explained, "That s--t came out before I had to put on a f--king duck hat and be like, 'derrrp here's the pizza!' So all my friends were there. It was a sad day. We didn't know it was going to happen."
"This won't be easy, this is rough," he continued. "So I start playing it. And we're all like, 'Ehhh… it's ok.' We're like 'Okay, it's not that bad for you."
On the bright side, Davidson met NBA star Richard Jefferson right after the breakup and the athlete taught him an important lesson. The former Cleveland Cavaliers player told him, "I just want you to know, stay strong. Everyone's got your back. Don't worry about it."
Davidson imparted his lesson on the crowd. He said, "So I'm driving home and I have an epiphany. That was like a beautiful moment, because if Richard Jefferson has taught us anything, it's that if you stick around long enough, you'll get a ring."
It turns out Davidson's mom, who is a nurse, was getting some flak for her son's split from Grande. "She was walking in the hallway and some little f--king kid started singing 'Thank U Next' to her. Me, I get it, but my mom?" he said. It turns out that little kid then had to sing the song in front of the Dean of the school, who is a former cop.
Then he turned to C.K. and gave an anecdote about tattoos. "I got a Harry Potter tattoo," he began. "Then the next day Alan Rickman, the guy who played Snape died, and I was like, oh, what a weird coincidence."
Strange enough. He went on, "Then I got a Willy Wonka tattoo. Next day—Gene Wilder dies. Now I'm like, alright, that's a coincidence, that's weird. So I'm thinking of getting a tattoo of Louis C.K., what do you guys think?"
Davidson continued, "That joke used to be about Aziz Ansari, but Aziz has been nice to me recently."
The Saturday Night Live cast member caused some concern about two weeks ago when he wrote a troubling note on Instagram and deleted his profile not long after.
It all stemmed from an extensive Twitter feud between Drake and Kanye West. Davidson praised West for speaking up about his mental health, especially because Davidson has been so open about the subject himself. Drake and the "Stronger" rapper's Twitter beef fell on the same day that Grande released her new single "Imagine" and chimed in about listening to her music rather than paying attention to the war of words.
In his note on Dec. 15, Davidson worried fans, friends and loved ones when he wrote, "I really don't want to be on this earth anymore."
He continued, "I'm doing my best to stay here for you but I actually don't know how much longer I can last. All I've ever tried to do was help people. Just remember I told you so."
Grande reportedly rushed over to 30 Rockefeller Plaza where Davidson was getting ready to film SNL. She had no way of contacting him herself because she apparently does not have his number anymore. After seeing his message that day, she tweeted, "Man I'm so sorry I told a dumb joke. I really didn't mean any harm. All I want everyone to be healthy and happy. So desperately. Please. My god...I'm downstairs and I'm not going anywhere if you need anyone or anything. I know u have everyone u need and that's not me, but I'm here too."
A source told E! News at the time that Davidson "didn't want to talk to [Grande]" when she showed up at 30 Rock. The insider elaborated, "She tweeted and reached out. She tried to contact him and rushed to see him. But, he didn't want to talk to her and made it clear."
Since his alarming note, the comedian has been spending time with close friends and family, especially Machine Gun Kelly. The singer tweeted on the 15th, "im in the plane now on the way to see Pete. gonna make sure he's good, i promise. can't have my boy in the darkness like that." The two pals were seen driving off together after SNL that night.
A week after the note, Davidson tagged along to one of Kelly's shows and was seen onstage during the concert in Cleveland. A concert attendee told E! News, "He was only on stage for about two songs but it just showed the type of friendship that him and MGK have together. It was honestly a beautiful thing that everyone was in awe of."