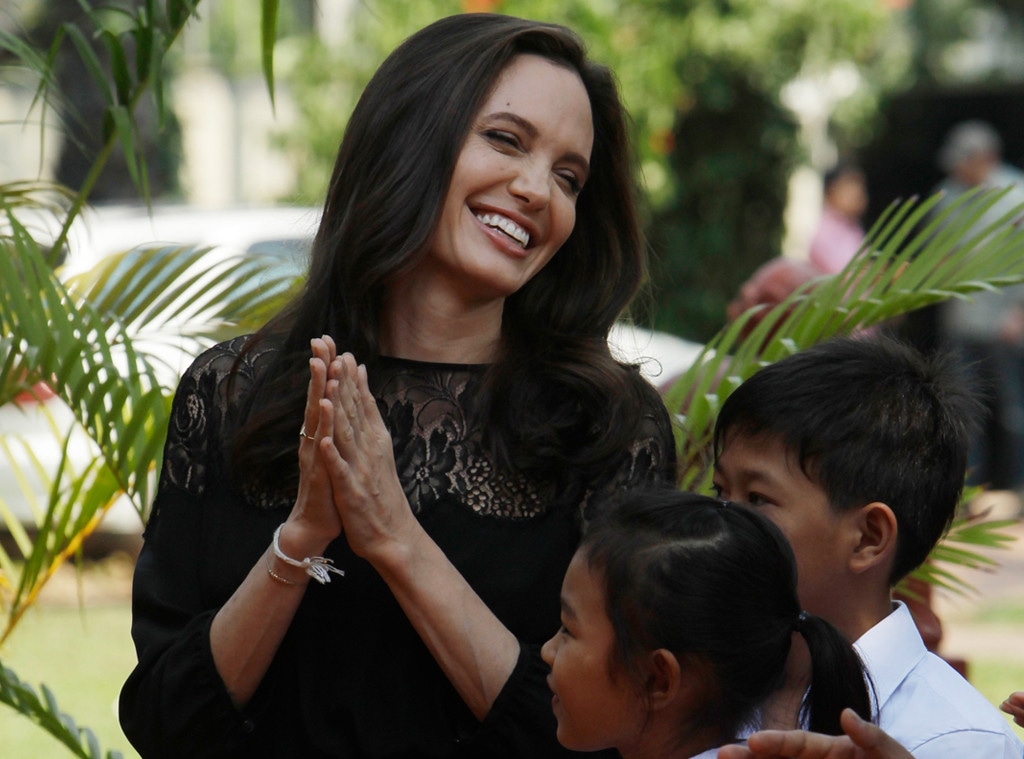 AP Photo/Heng Sinith
Angelina Jolie and Brad Pitt may be headed to the same destination, but their trajectories have widely diverged.
The once-warring exes have reached a tentative accord after their divorce proceedings got off to a surprisingly contentious start last September, at the end of the day each parent only wanting what's best for their six children.
But since Pitt's the one who was put on the defensive immediately—Jolie initially requested primary custody of the kids and the FBI briefly investigated a family squabble the actor was involved in on a private flight from London to Los Angeles—Pitt's the one who demonstrably set out to repair his relationship with his fans and the general public in recent months.
As it turned out, however, the public—inside or outside of Hollywood—didn't have much to forgive. And once Pitt's gut-spilling GQ Style interview came out earlier this month...
Game, set, PR match.
There were a few wonky weeks last fall when Pitt's character was publicly called into question by way of vague yet potentially damning divorce papers, ultimately his human side—flaws and all—served him well. His wife was over him for a multitude of reasons, but his closest pals stood by him in the face of allegations that called his trustworthiness as a parent into question.
Jolie had her personal reasons for wanting to end their marriage after two years and nine years of togetherness before that (Brad "boozing too much" and "running from feelings," as he admitted to GQ, presumably played a role), but she may have been a little surprised to find out that people seemed far more concerned with when Brad would get to see the kids next than they were with her reasons for wanting custody.
Though Pitt had to do publicity all the way back in November for his spy thriller Allied, Jolie was the one who first spoke out about their divorce, giving a few interviews while she was with the kids in Cambodia in February for the premiere of her locally shot directorial effort First They Killed My Father.  
It would later turn out that Pitt had also been in Cambodia, not with Jolie but nearby to spend time with the children, her lack of enthusiasm for George Stephanopoulos' "do you still think that [Brad's an amazing father]?" question notwithstanding.
Time (and a legal truce) continued to heal their respective wounds and earlier this month a source told E! News that Angelina and Brad were "on good terms." Most of their communication still revolves around the kids, but it's definite progress after those initial months of only speaking through lawyers.
Since filing for divorce on Sept. 19, 2016, however, Jolie has by choice been the most visible parent, hunkering down with the kids in Malibu right after the split, supporting Maddox when at first he wasn't yet ready to see his dad with the rest of his siblings, managing the holidays and birthday celebrations, and overseeing the outings that have become that much more conspicuous—whether intentionally or not—since she sent Pitt packing.
After firing off one final salvo in January when she alleged in court documents that Pitt was "terrified" of the truth coming out, she agreed to Pitt's request to keep their custody proceedings sealed. And then Jolie doubled down on the super-mom persona she couldn't help but cultivate over the years. 
Having Maddox, Zahara, Shiloh, Pax, Knox and Vivienne all together and by her side in Cambodia sent a loud and clear message: My family is doing fine, the kids are healthy and eventually we'll be all the stronger for this temporary turmoil. Moreover, Jolie was reasserting herself on the humanitarian scene, which has been a huge part of her life for the past two decades.
Since then, as Pitt has taken the purposely visible road (the GQ Style profile, doing "Big Questions With Even Bigger Stars" with Stephen Colbert, press almost-as-usual for his latest movie, War Machine), Jolie has taken the quieter but still almost equally visible parallel road as they simultaneously travel toward Amicable Town. 
i-Images/PacificCoastNews
And though she's signed on to be the new face of Guerlain's Mon Guerlain fragrance, with no immediate acting gig coming up (she remains attached to Maleficent 2, but Disney hasn't announced a start date yet), she's been available to spend as much time as possible with the kids—as she and Brad also used to trade off doing when one or the other had to be away working.
Her brood was in town with her when she delivered a talk during a "Women, Peace and Security" postgrad course at the London School of Economics in March—much to the students' delight after some wondered if the split drama might prompt her to cancel. During their stay, she arranged for a private tour of Buckingham Palace.
Around that time is when Jolie and Pitt started to communicate more directly again in hopes of being able to co-parent more effectively, that being the new normal they had no choice but to get used to for the kids' sake.
Pitt initially stayed with a friend in Santa Monica after the split, but by the time of his GQ interview was back in the Hollywood home he shared with Jolie. She, meanwhile, snatched up the former Cecil B. DeMille estate in nearby Los Feliz, which had been on the market for $25 million—the proximity being another sign she and Pitt are in it for the co-parenting long haul.
Jolie's relationship with Pitt isn't the only one she's been busy mending lately, either. A few weeks ago she took Knox, Pax, Vivenne and Zahara to dinner with her father, Jon Voight, whom she hasn't always been particularly close to. (Brad, in fact, helped reunited the two back in 2010, Voight's first time meeting all six of his grandchildren.) 
It was hard to tell how much Voight knew when he told E! News in December that his daughter was "holding on" post-split, but now that the Ray Donovan star and Jolie are both in L.A., it appears that staying in touch is once again a priority.
On Mother's Day, Jolie and 13-year-old Pax had dinner for two at TAO Asian Bistro in Hollywood, with an onlooker telling E! News that mother and son shared a lot of laughs, enjoyed their meal and took their leftovers with them. Later that week, Jolie—whom we've seen more of in May just out and about than the entire eight months prior—dropped thousands of dollars on herself and her eldest son and daughter at Fred Segal in West Hollywood while out shopping with Maddox and Zahara.
Jolie took the kids to Disneyland last Friday for Shiloh's birthday (she turned 11 on May 27), where the family and their friends of course enjoyed VIP treatment.
All the while, Jolie's been trying to eliminate any unnecessary drama. Pitt gave her a heads-up about the GQ interview, so she was fully aware that his own, refreshingly accountable side of the story was coming. And though the red carpet has been rolled out for her own raw postmortem regarding what really happened...
She hasn't felt the need to go that route yet.
Instead, Jolie is focusing solely on her kids in words and deed. And with Mother's Day just passed, the newly single Oscar winner is thinking about her own mom, Marcheline Bertrand, who died in 2007.
Jolie told Elle France in a new interview, per People, "I know how much she would have contributed to [her grandkids'] lives and I am sad they will miss out on that. I would give anything for her to be with me at this time. I've needed her. I talk to her often in my mind and try to think what she might say and how she might guide me."
There is no real substitute when it comes to her own confidante, but Jolie is obviously determined to be there for her own children in a way that's very much inspired by her own mother.
"It is the greatest gift and responsibility," Jolie said about being a mom herself. "It means doing everything that you can to live by your values and try to be an example to your children."
She continued, "But really the only way I know to raise them is to really listen. It's perhaps the most important thing any parent can do. They are resilient children, but they are children, and as much as they need to help to understand the hard truths in life they also need what we all need—protection and love."