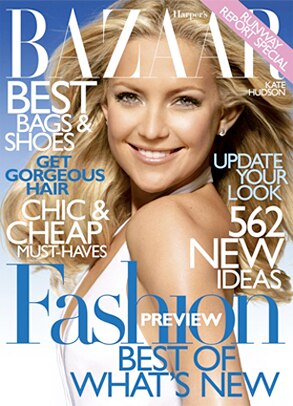 Peter Lindbergh for Harper's Bazaar Magazine
Kate Hudson appears on the cover of the upcoming issue of Harper's Bazaar. In the interview, she talks about her love life. She defends herself for taking chances on many, many different men, saying that she'd rather, "…hang out with a person who's done everything than who's done nothing."
I assume she also does "everything," which explains why men are so interested in dating her for at least a few weeks.
It's no secret that I think Kate Hudson is a big blond hot mess, but she revealed something about her family that I wasn't expecting. Of introducing her parents to her many boyfriends, she said that her family has always had an "open door" policy and that her mom "never shook anybody's hand…she kissed and hugged her way through life…"
We all know that some traits skip a generation, so Kate naturally has an open leg policy and porks her way through life. Go, girl.