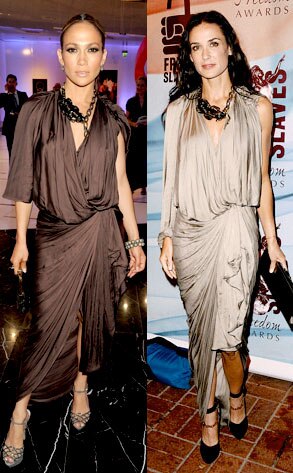 Dave Benett/Neon/Getty Images; Jason LaVeris/Getty Images
Draping is hard to pull off. But leave it to Jennifer Lopez to inject sex appeal into Lanvin's one-sleeve dress.
At the NEON Charity Gala in Moscow, the singer pulled back her hair to show off sultry eye makeup and worked the slit with her signature diva pose. It certainly isn't our fave J.Lo moment, but at least the dress didn't wear her.
Back in October, Demi Moore looked as if she was drowning in the folded fabric at the Freedom Awards—and the color didn't too much for her fair skin either. The only part we liked? Those hot Lanvin chain pumps. But J.Lo ended up wearing those better, too.
Who do you think did draping best? Vote now at mystyle.com.