Five Things You Need to Know About Oksana Grigorieva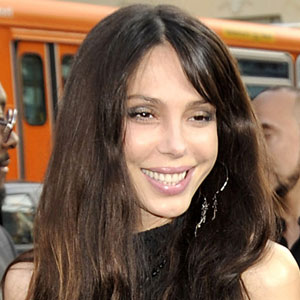 Kevin Winter/Getty Images
Here's what you know about Oksana Grigorieva: her attorneys are currently in court doing their best to stop the full-scale apocalypto that would occur should Mel Gibson obtain custody of their eight-month-old daughter. She's a singer. She has a well-documented like of technology. She's no doubt feeling pretty empathetic toward Chicago's WGN news team.
Now here's what you don't know—but really, really should…
She's Used to Cleaning Up Mel's Messes. Literally. Sure, shortly after the duo got together, it was all record deals and invitations to score his films and offers to direct her music videos. And, sure, there was that tetchy overlap between Oksana and Mel's wife of 28 years, but do you know how the acrimonious exes met? You do now: Grigorieva was working as a hostess for the Romanav Restaurant & Lounge in Studio City. That's right, of all the Russian eateries, in all the towns, in all the world, he had to walk into hers. And boy are they both regretting it.
She's Bond. Ex-Mrs. James Bond. After moving to London to study at the Royal College of Music, the classically-trained musician met Bond star Timothy Dalton while working as an interpreter to Russian director Nikita Mikhalkov. The duo married in 1997 and have one son, Alexander, of whom they share joint custody. Just 27 at the time, she already had one marriage under her belt, having tied the knot with British artist Nicholas Rowland in 1992, a union which paved the way for her relocation to the U.K. and her later meeting with Dalton.
Her Big Breaks Came From Josh Groban…and Prince Charles?! Eh, kind of. Earlier in her career, she was talent spotted by Patrick Anson, a royal photographer, the fifth Earl of Lichfield and the cousin of HRH Chuck (how's that for a résumé?). Soon after their meeting, her photos made their way into various fashion magazines and her modeling career was born. Oksana later made a name for herself as a songwriter in 2006, when "Un Dia Llegara," a tune she penned for Josh Groban, appeared on his album Awake and became a hit.
She's Smart. A classically trained pianist and the daughter of two music professors, Oksana reportedly patented a way to instruct musical notation to children. Much better than patenting new ways to scapegoat a race for starting all the wars in the world, don't ya think?
She Forgave and Forgot…Much to Her Detriment. When she and Mel first got together, she was asked about his infamous anti-Semitic rant and came to his defense. "How can I be judged for falling in love?" she told Reuters. "We live in the same city. I don't control who I meet. I meet many people in art and music and film, but love is inexplicable…He's not that person at all in my opinion. He apologized. I think he respects everybody." Except those that give birth to his children.
________
Want some pop culture CliffsNotes? Check out more of our (and yes, it is our) Five Things series!