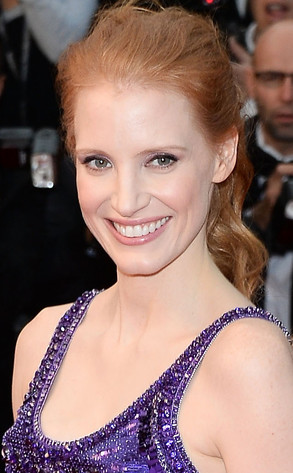 Venturelli/WireImage
We saw tons of stunning celebrities hit the red carpet during Cannes this week, but Jessica Chastain stood out the most. Instead of opting for heavy makeup like most of the other stars (we're talking to you, Milla Jovovich and Kat Graham), the two-time Oscar nominee accentuated her fair features and green eyes with soft shades of rose.
A thin black line at Jessica's lash line further defined her eyes and, while she used a touch of sparkle on her lids, it's not stripper sparkle. Instead, she kept it classy with a thin line of pink sparkle shadow above the black eyeliner.
Jessica also didn't get crazy penciling her light eyebrows (thankfully!), but still used enough pencil to ensure her light eyebrows didn't disappear into her face.