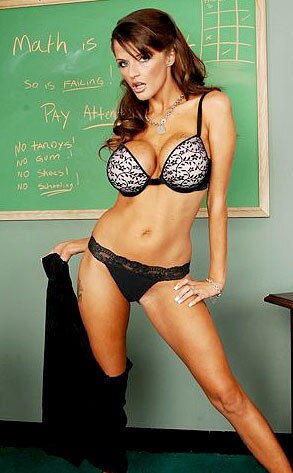 naughtyamerica.com
In response to the press conference that Tiger Woods held to discuss his return to the Masters Tournament/his reported porking, one of his alleged mistresses, Joslyn James, held a press conference of her own. Her lawyer, Gloria Allred, was at her side and stated that just as Tiger plans to move on with his career, her client will be moving on with her life.
"She is considering returning to her career as an adult film star," Allred stated. I don't know if that's really "moving on," but it certainly sounds like she's doing what she's qualified to do.
James also spoke her mind, claiming that Tiger's press conference was "malarkey" and that he is not being truthful or honest. She also feels strongly that she "deserves an apology."
It turns out James thought she was the only woman Tiger was cheating on his wife with, so obviously she's the victim here. Elin should probably apologize to her for getting in the way of their affair with the whole "marriage" thing.
James wrapped up the conference by adding that in the future, she plans to find someone who is not married to love her. What…a plan.
Maybe you'll meet a nice baker or a cobbler on the porn set, girl.