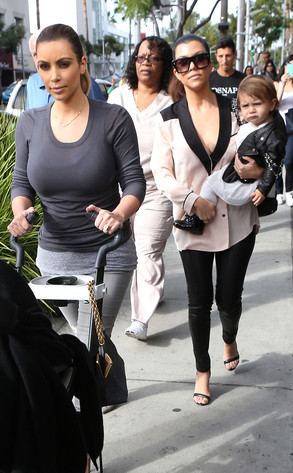 INFphoto.com
Kim Kardashian and Kourtney Kardashian were in the middle of a scary paparazzi incident on Monday, Dec. 16 in Los Angeles, a source tells E! News.
It was not a girls' day out but rather Kourtney was taking her 1-year-old daughter Penelope Disick to the pediatrician for a checkup, the same doctor Kris Jenner's children used to visit. Kim also took her 6-month old daughter North West to the doctor and the little girls had appointments together.
Shortly after the appointment, the group went for a meal at Nate 'n Al for lunch. It is a longstanding tradition to go to the well-know delicatessen.
However, the afternoon took an unexpected turn when they were hounded by a horde of paparazzi.