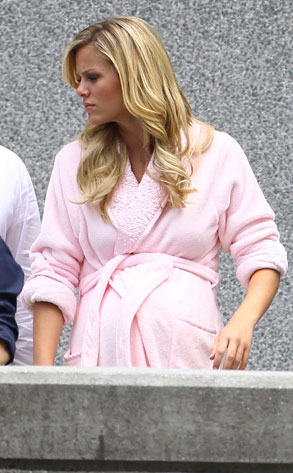 Chris Swarbrick/Watts/INFphoto.com
Well, we weren't expecting this. But despite how it looks, Andy Roddick doesn't have anything to tell us...yet. Other than the fact that his wife's turning into a fledgling movie star.
Swimsuit Illustrated covergirl turned actress Brooklyn Decker is sporting quite the baby bump in her new role in What to Expect When You're Expecting, the gestational comedy adaptation of the best-selling book.
In the flick, in which Brooklyn costars alongside Jennifer Lopez and Cameron Diaz, Decker plays the trophy wife of her much older husband who becomes the envy of her fellow mamas-to-be by experiencing a super easy pregnancy—despite expecting twins.
The movie is due out on May 11 of next year. Which, fittingly enough, is just about nine months away.