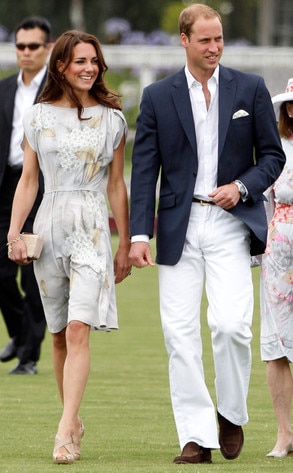 Phil Noble / Reuters
Too busy trying to catch a glimpse of Prince William and Kate Middleton in California to stay up on this weekend's entertainment news? No need to worry. We've got all the details of their jam-packed visit, plus Victoria Beckham and Kate Hudson's baby deliveries, and more, right here.
• Royals in La-La Land: With a whirlwind of events on the sked, Prince William and Kate Middleton arrived fresh-faced (and perfectly coiffed) to Los Angeles Friday afternoon. After attending a summit, the royal duo hobnobbed with celebs like David Beckham at an outdoor reception at the British consul-general's residence. And if that weren't enough to tire them out, the Duke and Duchess of Cambridge packed several more appearances into their weekend, like the Santa Barbara Foundation Polo Challenge, the launch of the US Patrons Circle of Tusk (which Reese Witherspoon attended), a visit to Skid Row's Inner City Arts and an event to help servicemen and -women that was capped by a heartfelt speech from William. And they took a commercial flight home!