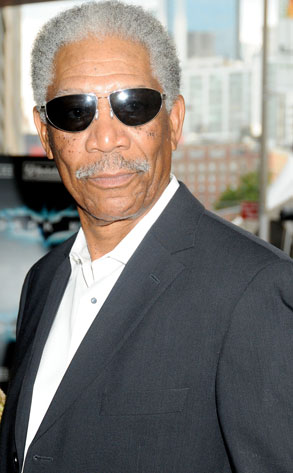 AP Photo/Kristie Bull/Graylock.com
Morgan Freeman just had the darkest night of his life.
The Oscar-winning Batman sidekick is in serious condition in a Memphis hospital after rolling his car on a rural stretch of Mississippi highway late Sunday.
Mississippi Highway Patrol spokesman Ben Williams confirmed to E! News that Freeman and his female passenger, Demaris Meyer, were heading east on state Highway 32 in Ruleville about 11:30 p.m. The 71-year-old actor was piloting Meyer's 1997 Nissan Maxima, lost control of the vehicle and then overcorrected, causing the car to flip several times before coming to a rest right-side up.
"It's just a typical accident," Williams told E! News. "It was on a dark road, it was late, this portion of the highway is rural."
Williams said there was no signs of alcohol being involved. Both Freeman and Meyer, 48, were both wearing seatbelts.
"I think it's safe to say no charges are planned," Williams said.