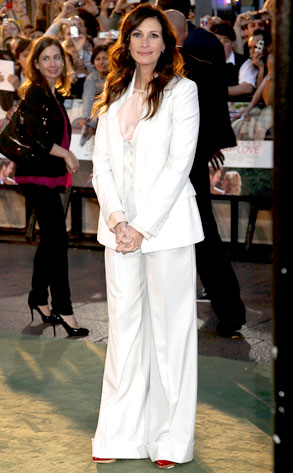 Chris Jackson/Getty Images
It's Julia Roberts at the U.K. premiere of Eat Pray...love your pantsuit!
After so-so appearances in Rome and New York, the actress redeems herself with her most flattering outfit yet—a white three-piece Stella McCartney suit with nude blouse and red heels that makes her legs look about eight miles long.
And Roberts isn't the only leading lady finding wardrobe magic in the menswear department. Madonna, Jen and Angie all know there's something supersexy when it comes to women wearing suits—over gowns—on the red carpet.
Sorry Javier Bardem, but this clothing switcheroo doesn't work the other way. But that's OK, we'll take you in a suit, too!