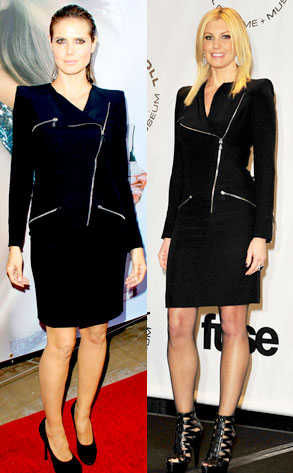 Tony DiMaio/startraksphoto.com; CHANCE YEH/PatrickMcMullan.com/Sipa Press/rrhofpmcsipa
Faith Hill is clearly the winner here.
Heidi Klum just looks terrible in Alexander McQueen's zipper detail dress at Eva Longoria Parker's perfume launch this week.
First of all, the supermodel doesn't seem like she's adjusting well to her new shaggy haircut, wearing it slicked-back wet style. Secondly, she looks shapeless in the biker-chic frock, even though we're sure she can afford to have it tailored. Finally, she has on boring black pumps. It's almost as if she isn't trying. McQueen must be rolling in his grave!
Meanwhile, Faith complements the asymmetrical hardware on the dress with fierce gladiator heels and bold jaw-dropping danglers during last month's Rock and Roll Hall of Fame Induction Ceremony.
Do you agree? Vote on mystyle.com now!