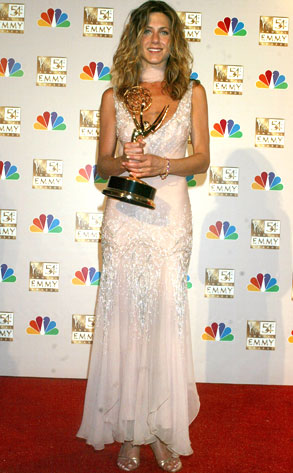 Jeffrey Mayer/Getty Images
Dear Ted:
Haven't seen many signs of Jennifer Aniston for the past few weeks. Think she may be getting rejuvenated for the Golden Globes?
—EllenP
Dear Wait and See:
I think it's very smart. She was way too overexposed there for a while. Maybe Robsten's brilliantly stealth ways are rubbing off on some celebs? Also, Ms. A. needs a major podium comeback after she sadly faltered at the Oscars, practically trembling right next to front-row Brangelina. Poor thing. Let's hope Jen nails this one, sure she will without evil Brad-stealing Angie there to evil-stare at her!
Dear Ted:
What is "delectable" about Marilyn Manson? All I can say is, "Euuuu!" Evan Rachel Wood is a gorgeous, talented 21-year-old for Gawd's sake! Is it BDS (Big Dick Syndrome)?
—Francesca
Dear Missed the Joke:
Definite sarcasm there babe. And ERW is hardly some manipulated twenty-something...she's just as crackers.
Dear Ted:
Is Nelly Fang Rob Pattinson with Kristen Stewart?
—Anna