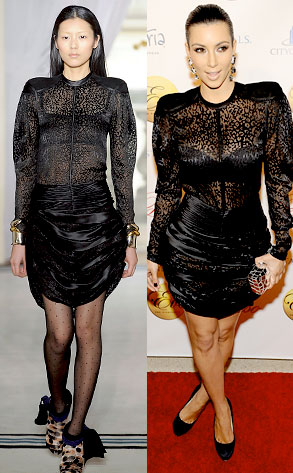 Karl Prouse/Catwalking/Getty Images; StevenLawton/Getty Images
As trim as Kim Kardashian may be, the genetically blessed reality star is still very well endowed. And unless busty women want to look like football players, then should never wear shoulder pads.
Clearly, Kim didn't get the memo
Not only did she channel boyfriend Reggie Bush at Eva Longoria's new club in Las Vegas with a Dynasty-style top, she even tied her hair back so tightly that her head transformed into a football.
The flat-chested model on Balenciaga's runway might have had quirky patterned tights and over-the-top booties but at least she didn't look like a linebacker.
Or do you like Kim's lacy '80s style?
Vote now on mystyle.com!