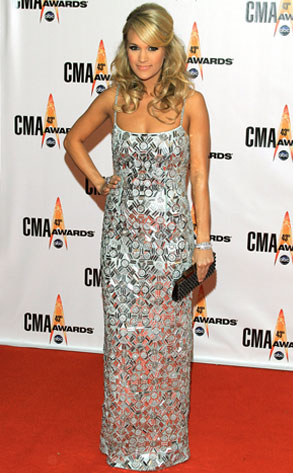 Taylor Hill/Getty Images
• How I Met Your Mother: Country cutie Carrie Underwood is going to guest on How I Met Your Mother in March as Tiffany, a pharmaceutical rep who becomes a love interest for Ted (Josh Radnor). Love HIMYM? We're interviewing the cast tomorrow night, so send your burning fan questions to tvdiva@eonline.com.
• The Biggest Loser: Celebrity trainer Jillian Michaels caused a minor kerfluffle when she referred to the Biggest Loser contestants as "monkeys" on her Facebook page. Do you think that was offensive or just a friendly jest?
• Legend of the Seeker: Kiwi actress Keisha Castle-Hughes, who was nominated for a Best Actress Oscar for her role in Whale Rider, will appear on Legend of the Seeker as a young woman claiming to be the Creator, the goddess of the Midlands.
• Twitter: Two big TV names have joined Twitter. Follow Chuck and Gossip Girl boss Josh Schwartz at @JoshSchwartz76; and Survivor host Jeff Probst is now tweeting @Jeff_Probst.