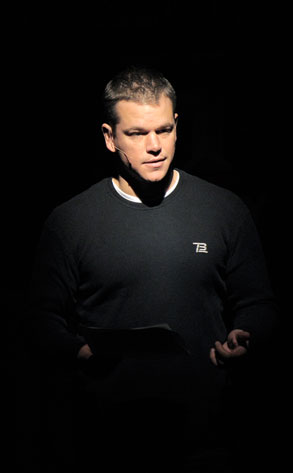 The History Channel
Ready for a sequel to Good Will Hunting?
Yeah, neither are we.
But Matt Damon is revisiting a tiny moment from his Oscar-winning film in The People Speak, a documentary premiering Sunday on the History Channel.
As Will Hunting, the actor tells Robin Williams' character that if he really wants to study history, he should read Howard Zinn's A People's History of the United States. As Matt Damon, the actor has turned the author's follow-up, Voices of a People's History of the United States, into a star-studded history lesson/television event.
Damon gathered Josh Brolin to coproduce, as well as Viggo Mortensen, Morgan Freeman, Bob Dylan, Kerry Washington, Pink, Bruce Springsteen, Marisa Tomei and a slew of other A-listers to participate in the passion project.
And, not unlike Hunting, this concept began in Matt's head more than a decade ago.