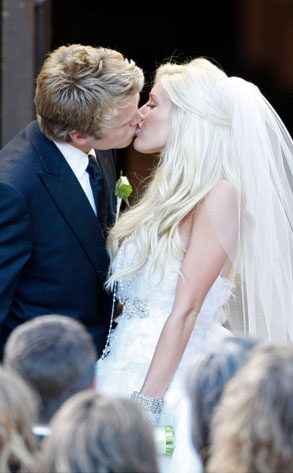 Buchan/Green
Dear Ted:
Why do the paparazzi show love for Heidi and Spencer? Their 15 minutes should be up by now. Are they trying to take over Paris' throne?
—dnnro
Dear Pratt Love:
The paps love Speidi 'cause they make it so easy. No car chases, no hiding in bushes and because gossip pages still swallow 'em up. A paparazzo was even the photographer at their wedding! But their love is only skin-deep—think any photo hog would wait hours outside their house just for a glimpse like they do our babe Britney? They wish.
Dear Ted:
What the hell? Where are all the posters that complained about too much Twi coverage? You give us a blazin'-hot Blind Vice and it gets under 200 posts. Paris, Britney, Lindsey, American Idol, B.V.—500-plus posts combined. Twi-related—2000! Will the madness ever end? P.S. Did you see the shout-out in Friday's Vancouver Sun?
—K.H., San Diego
Dear Vamp Madness:
Sure did! And don't you love the "denial" quotes they reported from K and R, who still didn't utter a defined "no effin' way" that they're together?
Dear Ted:
I always try to guess the identity of your Blind Vices but always fail. Will I be able to be right this time? Cause Hard-Nipple Nick sure is Tom Hanks, right?
—mindfreak