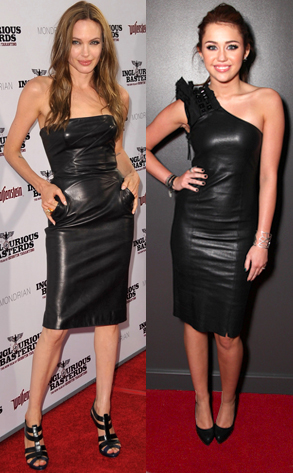 John Shearer/Getty Images; Eric Charbonneau/Le Studio/Getty Images
If you have the cojones to wear a leather dress you might as well go all out. Vixen vet Angelina Jolie enhanced the sexiness of her Michael Kors strapless with smokey eyes, just-tumbled-out-of-bed hair and fierce pose.
Miley Cyrus was just confused.
The sleek ponytail and glowing makeup was her best beauty look yet but she either needed to ditch the classic pumps for an edgier shoe or shorten the hemline ala Anne Hathaway to pull off the look. And you can't blame it on her age. Even at 15, Angie knew how to work it.
But hey, at least Miley's done (hopefully!) dressing like this.